Paquito Navarro and Federico Chingotto played a huge match this evening to overcome the defending champions of the Greenweez Paris Major in two straight sets. Juan Lebron and Ale Galan could do nothing to counter the fury of a pair who played on fire this evening.
The first set started fiercely, at a very brisk pace. Faced with an aggressive Galan / Lebron pair, Paquito and Fede had to defend three break points in the second game, on Chingotto's serve. Despite a video referee unfavorable to the Argentinian (rightly), he still retained his commitment.
In the process, it was Navarro and Chingotto who made the first break on Lebron's serve. But this advantage is immediately canceled by the number 1 seed, who seizes Paquito's bet after leading 0-40.
Everything has to be done again, but the Spanish-Argentinian pair does it again immediately: Galan in turn has his serve stolen, which brings the score to 2/3.
Chingotto then holds his serve, bringing his pair's advantage to 4/2. But while we expect a reaction from the Spaniards, Lebron also suffers a break (2/5). And Paquito drives home the point on his serve to conclude the first set 6/2.
Opportunities to dig the hole
Clearly, Lebron and Galan are struggling, while Paquito is on fire. He and "super Raton" make the break at the start of the second round, leading 1/0 then 2/0. They then have two opportunities to dig the hole to lead 3/0, but they are saved by Lebron with authority. The latter, despite everything, struggled to be patient in this match, while the playing conditions were much slower in the evening, with the temperature dropping to 29 degrees.
Federico Chingotto and Paquito Navarro managed to thwart their opponents like never before. And with wear and tear, they get this double break on the fifth opportunity.
In the stadium, the public chants the name of the showman Paquito, on cloud nine today and who delights his many supporters. Nothing seems to be able to happen today to the No. 4 seed, who has dominated all his matches in Paris since the start of the week.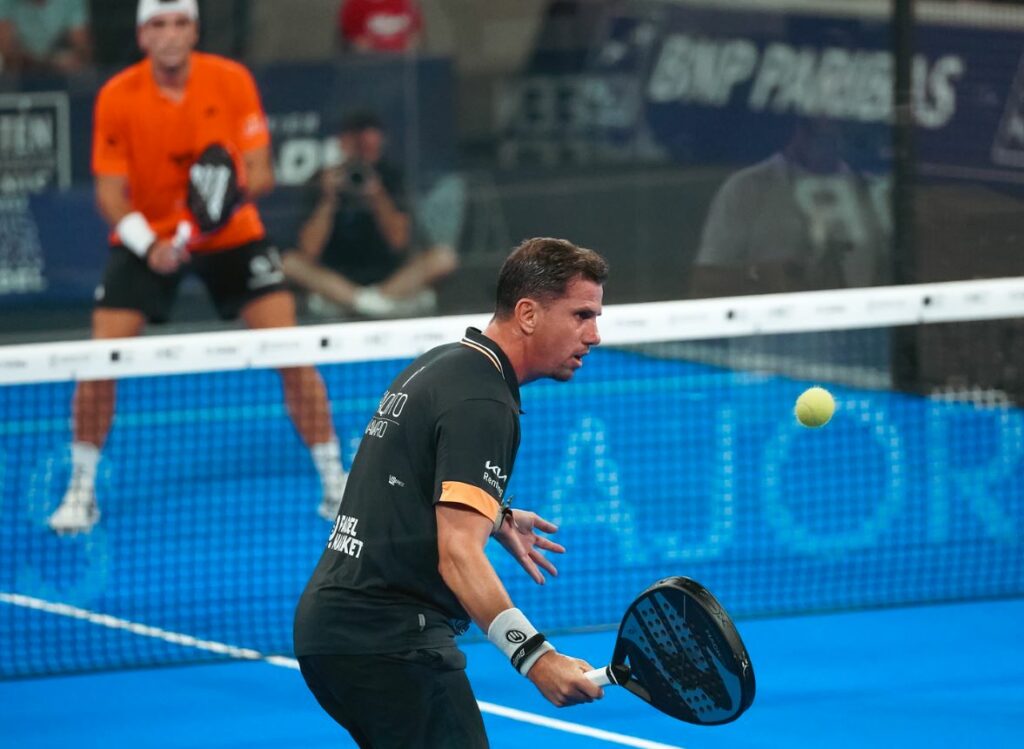 Except that we always end up coming down from our cloud, at a given moment: Paquito Navarro fails to win his next serve, committing his first errors in a long time, while Lebron and Galan have more success and finally show themselves more patients.
Another break ahead
Trailing 1/3, Lebron and Galan displayed more serenity to hold their service – that of Galan in this case – and return to 2/3 with a shutout. There remains a break in advance for Navarro / Chingotto, but nothing is won yet.
The proof, in the next game, the n°1s again show themselves to be dominant and manhandle Paquito and Fede, on the latter's serve, who does not manage to keep his throw in play. At 3/3, everything becomes possible again in this second round, the dynamics of which have been reversed.
Except that Paquito and Federico are certainly not going to give up: the proof, they recover their property by stealing the opposing service and lead 4/3. With so many exchanges of services, one would almost believe oneself in the women's second half (16 breaks in 29 games), but with a faster pace.
A boiling hot audience
Paquito Navarro then leads 40-15 on his serve, but his opponents, more and more patient, return to 40A. It will take a magnificent chiquita from Chingotto in the feet of Galan to allow the public's favorites to confirm their break and come away 5/3.
Chingotto's serve started well for him, a failed return from Galan giving his team two match points. But these are erased in a beautiful way by Lebron and Galan, who even get a break point, again saved with rage by the lively Sevillian. The next match point was the right one for Paquito and Fede, who won 6/2 6/3 to the cheers of a hot audience.
Federico will experience his second consecutive final in Paris tomorrow, no longer with Juan Tello, but with Paquito Navarro. They will challenge Coello and Tapia, easy winners of Sanz and Nieto today, in playing conditions which should be warmer than this evening and therefore faster.
See you for this match tomorrow Sunday, after the women's final, which begins at 14 p.m.
After 40 years of tennis, Jérôme falls into the pot of padel in 2018. Since then, he thinks about it every morning while shaving… but never shaves pala in hand! Journalist in Alsace, he has no other ambition than to share his passion with you, whether you speak French, Italian, Spanish or English.