During his interview for Le Figaro the 19 last October, Henri Leconte gave a very clear opinion on the relationship between the padel and tennis.
We know that Henri Leconte is a lover of padel. In addition to having a lot of fun on the slopes of padel, the former professional tennis player had even launched into the business of padel and more particularly in construction of land padel. If today, for the moment, this activity has ceased, he continues to love padel. And we could even see him again on the slopes during a PRO AM at FIP Rise Bourg-en-Bresse next November.
He spoke at the microphone of Padel Magazine in 2017 – yes, that dates back – and spoke of his love for our beautiful sport.
Tennis and padel, coexist to work better
In his interview for Le Figaro last week, Henri Leconte gave his opinion on cooperation between tennis and padel. If anyone would like to see the padel emancipate oneself from tennis, that is not the opinion of the former tennis. For him, the two sports must continue to evolve hand in hand.
The atmosphere, the friendly side of padel and its accessibility are for him the reasons why people appreciate sport. We lose this somewhat cold side that we find in tennis. In his interview, Henri Leconte added these strong words: "it's the padel who will save tennis, not the other way around".
Le padel : a springboard for young people
An intriguing statement from the tennis player who sees in the padel an ideal springboard for young people. Although, currently, these young people are not yet massively present on the courts of padel, the trend could change. Where, in tennis, it takes years to see real improvements, progress is faster in the padel. THE padel can it therefore serve as a springboard to excel in tennis?
What do you think ? Tennis and padel should they continue to coexist within the same federation? THE padel can it be an alternative to tennis to improve your skills?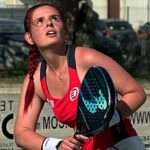 It was his brother who one day told him to accompany him on a track. padel, since then, Gwenaëlle has never left the court. Except when it comes to going to watch the broadcast of Padel Magazine, World Padel Tour… or Premier Padel…or the French Championships. In short, she is a fan of this sport.