While preparing to play another semi-final together, the Icardo/Riera pair was forced to abandon earlier this Saturday.
It's a new injury that will keep Tamara Icardo from the slopes. The player announced this morning that she was withdrawing from the rest of the competition at World Padel Tour German Open and will not play the semi-final which was to pit him against the world number ones, Josémaria/Sanchez.
According to Virgini Riera, it would only be "physical discomfort" for her partner. But to prevent it from getting worse, it seemed more prudent to skip this semi-final.
While waiting to know the duration of the Valencian player's unavailability, we can only hope that it is not too serious and that she will be able to quickly return to the slopes of padel.
However, place for a big weekend of padel on Canal+ channels. See you at 11 a.m. for the first semi-final.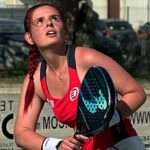 It was his brother who one day told him to accompany him on a track. padel, since then, Gwenaëlle has never left the court. Except when it comes to going to watch the broadcast of Padel Magazine, World Padel Tour… or Premier Padel…or the French Championships. In short, she is a fan of this sport.