[Checklist] [/ checklist]
[vision_content_box style = "autumn" title = "Pierre Lamoure"]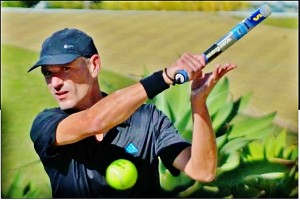 The "french" exiled in Spain, professor and technical manager of the padel club of Vals Axarquia of Torre del Mar, launches his column padel "technical and tactical". Find regularly articles and videos on how to play padel with Pierre Lamoure. more info here on his program. [/ Vision_content_box]
The lob padel is the shot that must imperatively mastered because it is certainly the most popular paddle stroke and the most important in this game.
Problematic
How to win back the net?
solutions:
An option: The lob
The worldwide 1 number, BELASTEGUIN, says: "the lob is THE major stroke of the padel"
It is necessary to know how to work it to be able to contain the attacks of the opponents and to project to the net.
Some recommendations:
Make a short preparation by positioning the racket below the level of the ball
To flex well on the legs and to avoid lowering the upper part of the body
Remount simultaneously the legs, the trunk and the arm
Continue the gesture with the arm giving the final direction of the lob thanks to the ending
Tip: Even without being in great difficulty, use a very high lob which will be difficult to control for your opponents, Paquito Navarro is a great specialist !!
Good training and very quickly,

Franck Binisti discovers the padel at the Pyramid Club in 2009 in the Paris region. Since then padel is part of his life. You often see him touring France by going to cover the big French paddle events.