The P500, padel tournament organized by the Padel Lyon Club (Padel Central Lyon) s'annonce explosif ce week-end avec un programme de très haut standing et une paire qui va faire beaucoup parler : Monfils / Haziza.
Gaël Monfils associated with Robin Haziza
N°9 mondial et meilleur joueur Français, Gaël Monfils est un joueur marquant de l'histoire du tennis Français et mondial. Mais c'est aussi un passionné de Padel. Et c'est le tournoi P500 du Padel Lyon Club /Padel Central Lyon organisé ce week-end qu'il a choisi pour faire ses débuts en compétition officielle.
Attracted by the "spectacular and fun side"Of our sport in perfect adequacy with his own qualities, Gaël remains a fierce competitor. Associated with the double champion of France Robin Haziza, he will aim nothing less than the victory on the tracks Lyonnaises. To achieve his goals he will have to face a very high level table composed of 44 pairs from all over France (Perpignan, Lille, Marseille, Nice, Montpellier, Paris).
Favorites: Aitor Garcia (126 WPT) / Justin Lopes (French 1)
It will include the professional player Aitor Garcia Bassas (No. 126 WPT) who will act as a favorite and will play for the occasion with Justin LOPES (No. 1 French), but also with Pierre Etienne MORILLON (No. 3) and Johan BERGERON (N ° 3) just before his departure for the Spanish professional circuit, and of course, with also several past or present members of the French team (Boulade, Salles, Moreau, Fouquet, Desliens, Reisinger, Blanqué) .
If we add to this rain of stars the many talented local players, the show will be at the rendezvous from Friday night pre-qualifying to climb crescendo until the final Sunday afternoon. Two levels of qualifications will allow each player to hope to reach the final table and face their idol ...
First part of Gael MONFILS / Robin Haziza: Saturday 4 at 18h00
The course of the tournament:
Friday 3 February from 18h00 to 00h30: Prequalifications
Saturday 4 February from 09h00 to 17h00; Qualifications
Saturday 4 February from 17h00: 1 / 8efinal of main draw
Sunday 5 February: ¼ finals at 09h00, ½ Finals at 13h00, Final from 15h30
Practical information:
Padel Lyon Club /Padel Central Lyon: 41 chemin du moulin Caron 69570 DARDILLY.
Entrée libre.
Informations and press contact: Jérôme BECASSET 06 51 19 68 39
The tables of the P500 gentlemen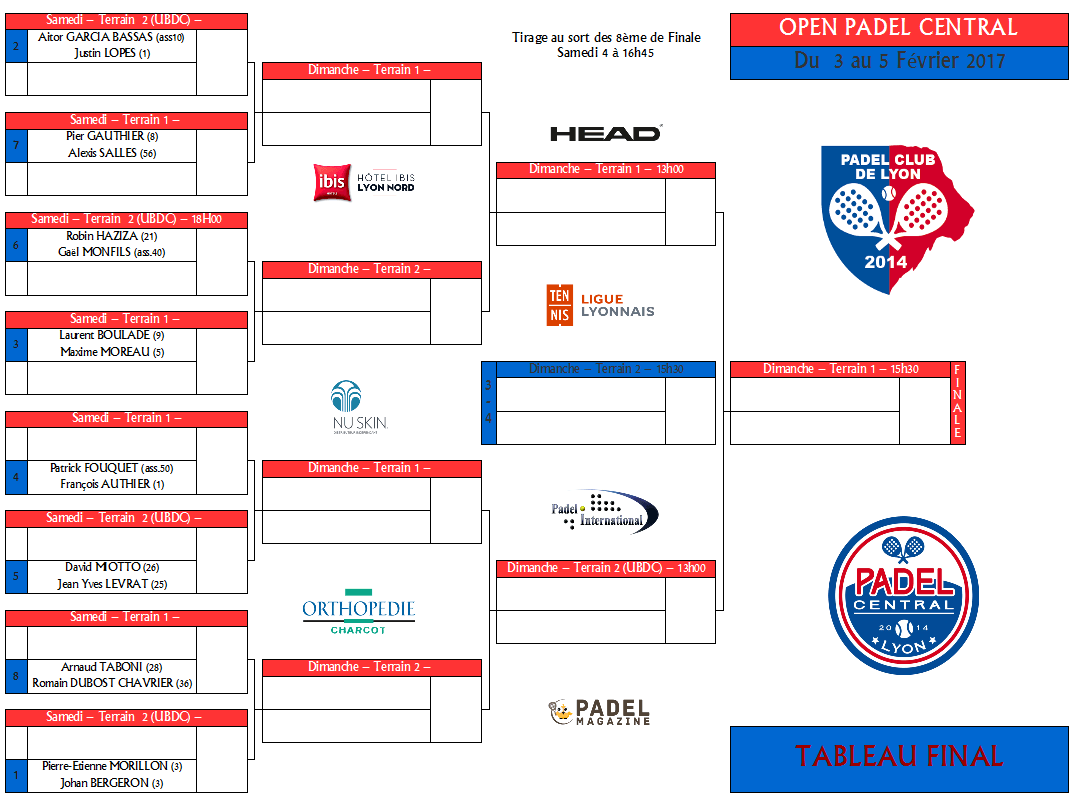 Franck Binisti discovers the padel at the Pyramid Club in 2009 in the Paris region. Since then padel is part of his life. You often see him touring France by going to cover the big French paddle events.