Padel Magazine - Even if there is not necessarily specific regulation for SOLO pitches and minipadel (also called the "Kidspadel"), We will see that these different terrains are nevertheless great alternatives to the classic terrain.
1 / The SOLO field
There are "SOLO" pitches for 1 on 1 practice. In Spain, this is a fairly widespread practice. This type of field allows the little ones to play even if we will see that there are specific fields for "kids". But also and above all the SOLO will allow you to play 1 against 1 when a pair is lacking. Training on these types of terrain is also great because it forces players to play with precision. The width of the field requires over-concentration to avoid making too many mistakes.
The dimensions are 6m width and 18 or 20 meters in length. However, it is recommended to use a pitch of 20 meters in length, especially because the sensations for the players are closer to the classic terrain than those of a pitch of 18 meters.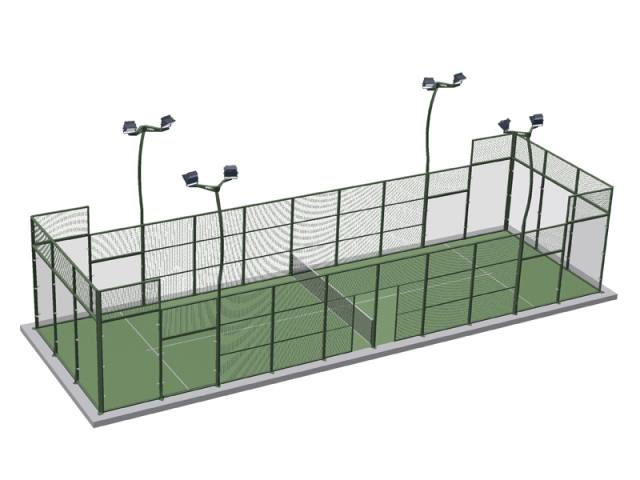 2 / The minipadel or the "Kidspadel"
There are also mini-padels. There are basically two types of dimensions
===> For 7-9 year olds: 10m * 6m with a 0.92 com net at the ends like a classic field.
===> For children under 5/6 years old: 5m * 3 or 4m. the net is generally 0.80 cm.
Remember that in Spanish-speaking countries, you learn to play very small and sometimes even before all other racket sports. These minipads allow:
The youngest to play on a field adapted to their physique.
to give confidence to the youngest because they can try to play as the greatest.
to work motor skills from a very young age with such rebounds found only padel.
To assimilate the basic movements.
Recommendations:
Do not forget to provide young children with a paddle racket "junior" and as light as possible. Today the materials used offer all the guarantees to children not to spoil themselves.
Counting points must be as simple as possible. Submit a game in 15 winning points with two points difference. We change servers every two points.
Franck Binisti - Padel Magazine

Franck Binisti discovers the padel at the Pyramid Club in 2009 in the Paris region. Since then padel is part of his life. You often see him touring France by going to cover the big French paddle events.