The Spanish teams completely dominated the competition this year at the Junior World Championships with the double victory girls and boys during nations matches.
Girls, no worries
Among the girls, a crushing victory for the Spanish, 3-0 against the Argentine team. The U14s were those who suffered the most, winning their first match in 3 sets. The U16s were much more expeditious, with a clear victory 6/1 6/1.
The U18 meeting will have offered an "exhibition" match, including the "stars" Ustero/Alonso, for the Spanish team, which we are used to seeing on the pro circuit. And for Argentina, Claudia Jensen, subscriber to major events on the World Padel Tour or Premier Padel.
Finally, a clean victory for the Ustero/Alonso pair against Jensen/Ferreyra, 6/4 6/3.
The boys, just as dominant
The young Spanish players met the Swedish team, who had surprised everyone by reaching this level. Unfortunately for the Nordics, the final of this world championship was one-sided, such was the high level of the future Spanish stars.
Three victories in two sets: no mistake for our neighbors! Spain will have managed to maintain its rank as leader in this world championship and leaves with two team trophies.
We don't stop there for Spanish youth, since even in the Open, the young hopeful girls ET boys won the Open in U14, U16 and U18. It is only in U12 where two Brazilian teams won.
Obviously, this World Cup was not just a success for Spain, but for the planet padel in general, since Luigi Carraro, president of the FIP, declared, at the end of these championships "We noted a very high technical and organizational level. I say it with immense pride: this junior world championship was unique, incredible, beautiful…"
Let us recall that our French delegations have completed 5e for the boys et 6e for the girls.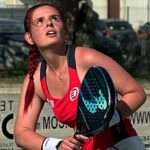 It was his brother who one day told him to accompany him on a track. padel, since then, Gwenaëlle has never left the court. Except when it comes to going to watch the broadcast of Padel Magazine, World Padel Tour… or Premier Padel…or the French Championships. In short, she is a fan of this sport.