At the Valencia Open, the professional event of World Padel Tour which takes place until July 14, 2019, Jérémy Scatena and Mark Bernils achieved exceptional pre-qualifying by winning 3 games in a row and advancing to the first round of qualifying for the tournament.
Jérémy Scatena had failed 3 times in the last round of preprevias. And we had to look very far to get this ticket. And the road is not over since in the next round, this Monday at 18 p.m., the Franco-Spanish pair will play against the Portuguese Diogo Rocha and the Spanish Antonio Luque, 2 players known in France.
Emotion on the ground ...
We felt a lot of emotions after this victory in the prequalification final against Manuel Prado Prego / Patricio Nahuel Belluati Lopez, 2 big players very difficult to play.
Jeremy tells us:
it was already 3 failures in these small finals of preprevias. To access these small finals, we must follow 2 wins ... And it's far from easy.

In this match, we will have fought like crazy to pass this last obstacle before qualifying. In the last set, we saved 4 breakpoints to finally win 7 / 5.
During this match, the rain was mixed and we know that Jeremy is a player who prefers outdoor conditions.
This victory against the elements, makes the victory even more beautiful. I hope we play outside for our next game. But the rain is doing its own in Valencia. cross your fingers.
This is the second time of the year that Jérémy Scatena returns to Previa. And he is one of the very few French players to have had the opportunity to play this second half.
For Jérémy, this victory also confirms his sporting choices.
With this victory, our French is still in the race to enter the top 100 world.
I know that in France, there are big competitions. But today, I want to get involved with 100% on the professional circuit to go as far as possible.

This is additional pressure. Because you never know if you made the right choice. It would be much easier to enter, but I want to offer myself a ranking in the world top 100. You have to make choices.
"I was not far from cracking"
The sport is sometimes magical. And this victory in this preprevias tournament will be remembered by Mark Bernils and Jérémy scatena.
Mark, Jérémy's partner tells us a little more:
In recent weeks, I was not necessarily mentally at best. It took a break. And here I am with Jeremy previas. Oh that's good !
The semi-professional player's life is far from obvious. There are sometimes big rays of sun like this Valencia tournament.
We managed to beat top 100 players in this first part of the table. Now, we will still pass a course. But we know these players and especially the most important, we know we can do it even if the road is still long.
Next match therefore against the Hispano-Portuguese pair Diogo Rocha / Antonio Luque later at 18 p.m.
Vamos!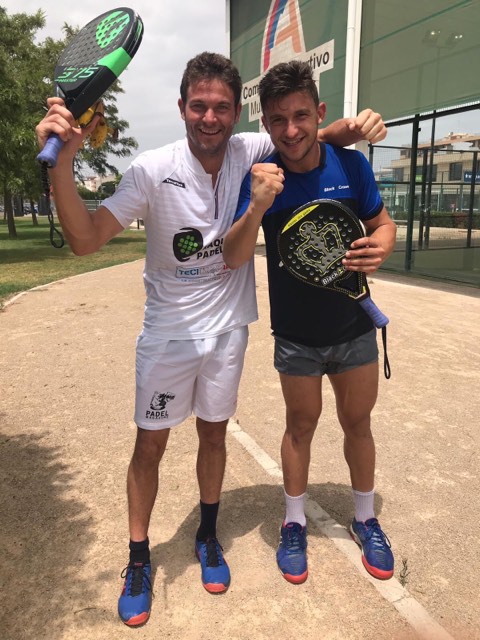 Franck Binisti discovers the padel at the Club des Pyramides in 2009 in the Paris region. Since padel is part of his life. You often see him touring France going to cover the major events of padel French.