The round of XNUMX is over for Caen and we can say that this tournament is full of twists and turns. After the abandonment of the number 2 seed earlier in the day, propelling the Viseur/Edon pair into the quarter-finals, a surprise elimination was added to the list.
Indeed, the pair composed of Johan Bergeron and Cyril Hanouna (TS5) lost in two short sets against the Ledrap/Dupraz duo, 6-2, 6-3.
You can follow all tournament results, programming and live. And watch live the 1/4 final between the local pair Durieux/Paumard and Boilevin/Mitjana on Padel Magazine TV: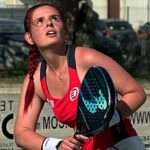 It was his brother who one day told him to accompany him on a track. padel, since then, Gwenaëlle has never left the court. Except when it comes to going to watch the broadcast of Padel Magazine, World Padel Tour… or Premier Padel…or the French Championships. In short, she is a fan of this sport.