Lilian Fouré and Florian Hue confirm their good form from moment to moment P1500 Spirit Padel, releasing the French number 1 Ben Tison et son partenaire Florent Thevenot (135). Another benchmark match for the pair after his very good run at P1500 Padel Campus Arena, where she was seeded number 2.
Very close match between the two teams which ended in the super tie-break, serving as the third set.
Match hooked from start to finish
The first set was very balanced. If Ben Tison and Florent Thevenot led several times 0-30 on the service of their opponents, there was no break in this first set. It took a tie-break to decide between the two pairs. Advantage to Lilian Fouré and Florian Hue in this decisive game, again very close. Score: 7/6 (5).
From the start of the second act, the pair Fouré/Hue breake and takes the lead. Tison and Thevenot do not let themselves be left behind in this match and immediately come back to score. Once again, the debates are balanced and this set once again ends in a tie-break. This time, it turns in favor of the French number one, 7 / 6 (4).
A balanced meeting
The match therefore ends in a super tie-break. This time, there will be a clear domination of the Hue/Fouré pair. After 1h22 of match, the 11th seed won 7/6 (5) 6/7 (4) 10/6. Note that Florian Hue and Lilian Fouré won fewer points in this meeting than their opponents.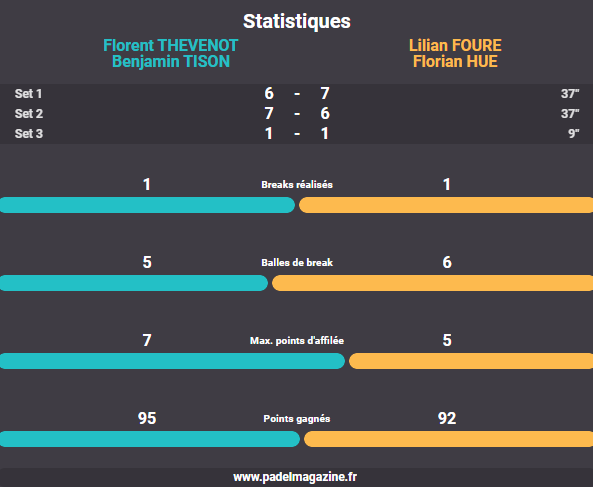 For the next match Lilian Fouré and Florian Hue will be opposed to the number 1 seed Pierre Vincent (14) and François Authier (13).
For Benjamin Tison and Florent Thevenot, it is a 17th place that will have to be sought during the classification matches. In their first meeting in this table, they will be opposed to Justin Lopes and Jerome Ferrandez, eliminated by the qualified Seux/Hayeux.
You can follow the latter P1500 of the year on Padel Mag TV and on the channel Twitch Spirit Padel :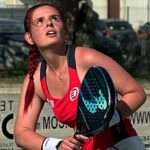 It was his brother who one day told him to accompany him on a track. padel, since then, Gwenaëlle has never left the court. Except when it comes to going to watch the broadcast of Padel Magazine, World Padel Tour… or Premier Padel…or the French Championships. In short, she is a fan of this sport.