Nicolas Rouanet and Norman Sanchez take a great victory in the P1500 Padel Campus Arena located in the north of France. The 3 seed dominated the pair composed of Maxime Joris and Alexandre Toppin in two clear sets: 6 / 3 6 / 1.
In a tournament marked by many surprises, notably with the elimination of several favorites in the quarter-finals, the final saw logic triumph: the third seed winning over the fourth.
First round contested
From the outset, Sanchez/Rouanet took the advantage with a quick break, capitalizing on their power to unsettle their opponents in defense. However, Alexandre and Maxime fought back by recovering their serve, exploiting some errors from Norman Sanchez.
Remotivated, Sanchez/Rouanet found their initial rhythm, playing with precision and aggression to regain control. Under pressure, Toppin and Joris gave up another service game, thus letting the first set slip away.
Second set dominated
Pumped up, Sanchez and Rouanet imposed their game in the second set, despite a moment of hesitation during their second service game where they had to save two break points to keep their lead.
Toppin and Joris, despite their determination, are struggling to find a second wind, undoubtedly worn out by a demanding semi-final played the same morning. They finally concede the round 6/1.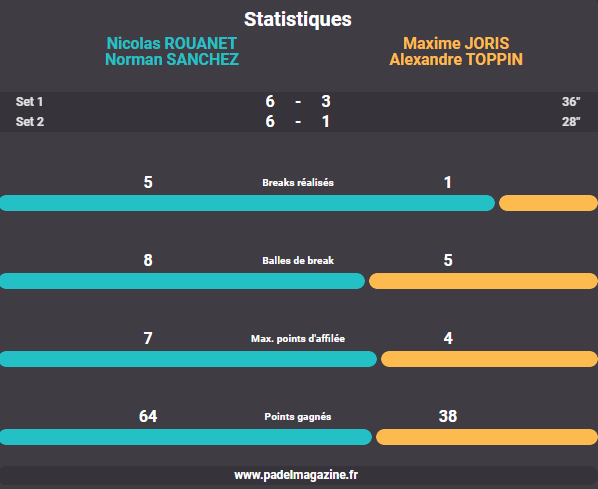 Third title for the Sanchez/Rouanet pair this season, after a victory at the ARA Championships (Auvergne-Rhône-Alpes) Seniors in June and P1000 Esprit Padel Shop last April.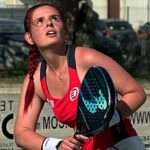 It was his brother who one day told him to accompany him on a track. padel, since then, Gwenaëlle has never left the court. Except when it comes to going to watch the broadcast of Padel Magazine, World Padel Tour… or Premier Padel…or the French Championships. In short, she is a fan of this sport.