The two players who are probably the best French in padel-armchair, the Niçois Dorian Navarro and theAlsatian Sébastien Husser achieved a real feat last week in Tarbes. On October 18 and 19, they participated in the Open Pyrénées Padel, a P250 bringing together 11 teams, including three of the best Spanish pairs.
Notably present was the Spanish No. 1 Edorta De Anta, associated with No. 7 Iñaki Ramperez, two players who won the gold medal last May at the first world championships of padel-armchair, in Madrid. The French Navarro-Husser pair, who brought back the bronze from Madrid after an honorable defeat against Spain, was precisely opposed to these two Spaniards in the semi-final in Tarbes.
Five games scored in a row
Not at all impressed by the number 1 seed, the two Frenchmen were able to surpass themselves to reverse a compromised situation: trailing 4/7, they put together five games in a row to win 9/7, against all expectations. "We were super happy," says Sébastien Husser. The level of play was really good, with great tactics that we put in place. We managed to respect what we said, it's great".
This victory over the number 1 seed foreshadowed success in the final. But that was without the reservoir of excellent players that the Iberian Peninsula has. Navarro/Husser's opponents were Aitor Elorduy (Spanish n°17) and Ryan Gony (n°48), against whom Husser and Navarro had lost with difficulty, the same morning, in the group stage.
"We didn't know them," admits Sébastien Husser, "but afterwards, we knew that they had solid references. After the group defeat, we found them in the final. And there, we miss out on the match a little, both physically and a little mentally too. They, on the other hand, raised their level of play a little. They perhaps also analyzed our game between our two matches. And as a result, we lost this final 9/4."
Husser, the "black beast" of Edorta
Despite this slight disappointment, "we had a great tournament, very well organized by Jean-Michel Barta, who took great care of us. And there were some great performances. Obviously, this motivates even more for the future, having beaten references like Edorta and Iñaki. And then, I think it will get people talking over there, in Spain. They're already watching us, so they're going to watch us even more. And then, for the little anecdote – of course, it's humor – I become a bit of the bane of Edorta, whom I beat twice in two matches! So I am undefeated against him in an official match (laughs)."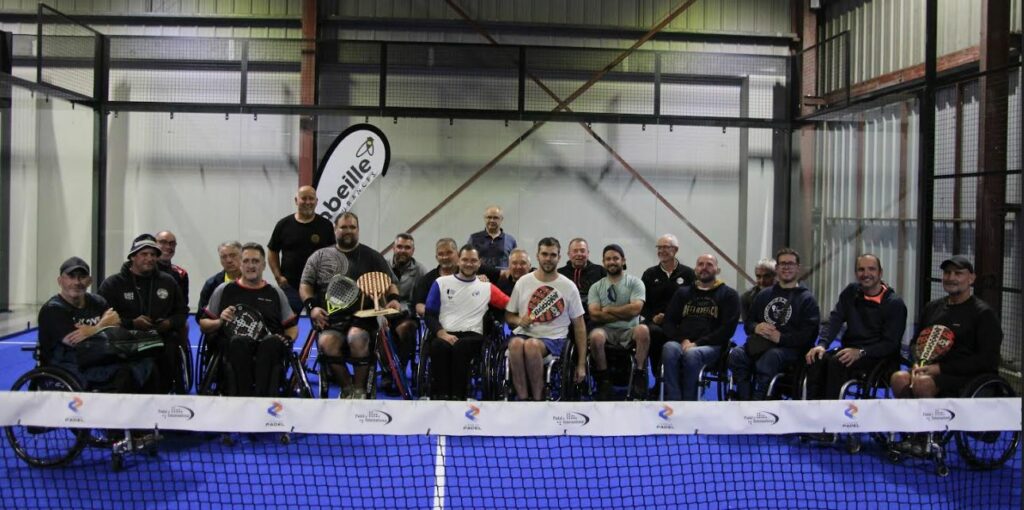 As for the organizers, Jean-Michel Barta is delighted with the "great success of this event, a first in Tarbes, with French and Spanish players and a large audience coming to watch the matches". He takes this opportunity to thank the sponsors, Cupra Eden Auto Tarbes, Abeille Assurance (Christian Pomé), the Occitanie Tennis League, the Departmental Tennis Committee and the Occitanie Region, who made this event possible. He is already looking forward to the second edition in 2024.
As for the best French players in padel-armchair, they will meet on December 2 and 3 to 4Padel of Mulhouse, for the end-of-season Masters which will bring together the eight best French pairs. This wheelchair P250 will take place in parallel with a P100 reserved for able-bodied players.
After 40 years of tennis, Jérôme falls into the pot of padel in 2018. Since then, he thinks about it every morning while shaving… but never shaves pala in hand! Journalist in Alsace, he has no other ambition than to share his passion with you, whether you speak French, Italian, Spanish or English.