For many aficionados, it is THE tournament of the year!
In collaboration with Qatar Sports Investments (QSI) and under the governance of FIP, the French Tennis Federation will organize from July 10 to 17 the first edition of the Paris Premier Padel Major at the Roland Garros stadium.
To honor this great feast of padel 6 tracks will be installed in the stadium, including one on the Philippe-Chatrier court. Courts 2, 3, 4 and 5 will be made available for matches and number 6 will be dedicated solely to training.
Tournament schedule
In the men
The qualifying phases will be held from Sunday July 10 until the following morning. During these group matches, no less than 32 teams (including two guests) will compete for the 8 entry tickets for the final table.
The latter will begin on Monday 11 in the afternoon and will bring together a total of 56 teams (44 direct entrants – 8 qualified pairs from the pools and 4 wild cards). Also remember that the 8 seeded pairs will be exempt from the first round.
In the ladies
An exhibition bringing together 16 female pairs will be organized during the 2022 edition.
No Punto de Oro at Roland Garros
As for the very first tournament of Premier Padel which took place a few weeks ago in Doha, the organizers of this Paris Premier Padel Major decided to continue on the same rules. Thus the games will be played in the best of three sets with decisive game at 6 everywhere in the third set and advantage at 40A.
Points and prize money
The big winners of this tournament will walk away with 2 precious FIP points and 000 will be awarded to the finalists. Here's how the points will be distributed from the first qualifying round.

Regarding the winnings, no less than 524 euros in prize money will be distributed among the participants. The winners of this 920 edition will each collect 2022 euros.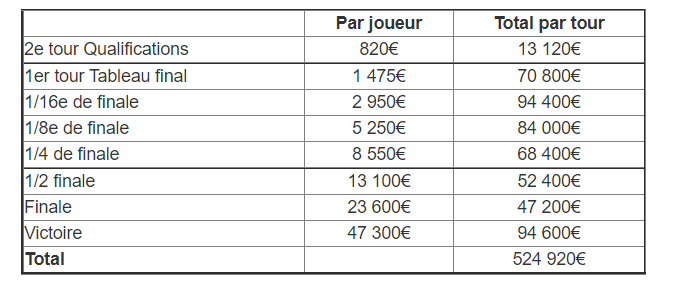 If you cannot attend this major event of the season, you still have the beIN Sports solution.
Indeed in France the official broadcaster will be the Qatari television channel. In other countries SKY, ESPN, Viaplay and Supersport will be the options to be able to see this competition.
Other information is to come, such as the prize-money for the women's category, as well as the match schedules. Of course we will keep you informed as soon as we know more.
Find all the news of padel on the fact Padel Magazine !

Fan of padel and of Spanish origin, the padel runs through my veins. Very happy to share with you my passion through the world reference of padel : Padel Magazine.