Who says autumn – winter season says return of indoor matches. And what could be better than playing under a quality structure that will protect you from bad weather. This is why today we are going to share with you the Top 3 companies which offer covers or interior structures specially dedicated to padel.
ACS
Expert in the construction of sports buildings, ACS creates land for padel perfectly suited to the requirements of this practice and in the compliance with the FFT templates.
Practitioners will thus find a friendly, covered area to play whatever the weather conditions. ACS intervenes as well for the coverage of land of padel existing projects as well as for the construction of new projects. The Nantes company therefore offers tailor-made solutions, in 100% galvanized steel or glued laminate, which will integrate perfectly into the chosen environment.
SMC2
Created in 2003, the company located near Lyon is today the European leader in the sports and games space market. SMC2 offers turnkey solutions padel glazed indoor which meet the expectations of the practice of padel : play'shelter permanently, while retaining the brightness and the advantages of an outdoor sport.
Made of wood for the framework and textile membranes for the roofs and facades, the structures offered by SMC2 offer unparalleled comfort in terms of brightness and acoustics.
In addition, the Lyon firm has become aware of the climate emergency that we are currently facing. To do this, it favors solar resources rather than electricity to light sports infrastructures. Wood, by storing CO2, is an eco-responsible material by nature. To create its structures, the company favors the use of European wood from sustainably managed forests.
The image on the front page of the article also concerns the Mont Sports Complex, a building built by SMC2.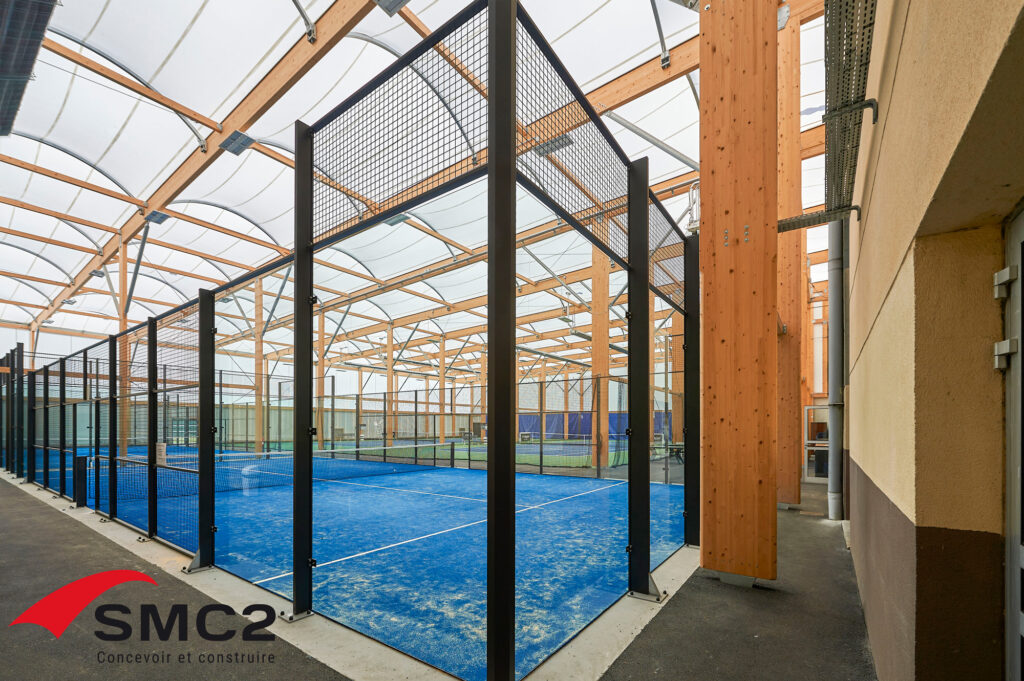 Lauralu
Originally from Ariège, the company Lauralu is an expert in building structures new or used, available at sale and rental.
For the coverage of the tracks of padel, the Ariège firm offers a wide choice of configurations responding to all aesthetic and functional issues guaranteeing covered spaces that are fully operational and comfortable all year round. The proposed buildings can benefit from the label PQT® / PQP® (Tennis Quality Plan / Quality Plan Padel), granted by the FFT (French Tennis Federation), in the category " Covered Courts – Textile Buildings".
From design to installation, this French company supports you throughout your project.

Future naturopath and passionate about padel, Seb is the health/food gentleman of Padel Magazine. He juggles between pala, quinoa and essential oils. For almost two years now he has been dealing with the news of the little yellow ball with the same passion.