Daniel "Sanyo" Gutierrez confides in Padel Magazine during a exclusive interview. Discover the second part of the interview: Sanyo, conquering the WPT.
Click here to read the first part of the "The Man Behind the Player" interview.
"We will be better in the second half of the season"
Lorenzo Lecci Lopez: How do you analyze the Madrid final against Ruiz / Stupa ? After this lost first set, how did you change the tactics to turn the game around?
Sanyo Gutierrez:"AT Madrid, we struggled in the early stages, but we still managed to win the tournament. I don't think we played a big padel. It is true that we have been good in the important moments. We fought, and we slowed down the game on this track so fast. You always need a little luck to win a tournament. "
Lorenzo Lecci Lopez: In Alicante, on a slower track, Ruiz / Stupa beat you up. What can you learn from this loss?
Sanyo Gutierrez:"We learn every day. Every defeat is different. This match gave us a lot of lessons. We are a very young pair, and we are not yet playing at the level that we can reach. I agree with Bela: "We will be better in the second half of the season". Everyone was expecting a lot from this pair, and in Madrid we didn't disappoint because we won. But we never thought we were going to win all the tournaments. "
"We know that young people play very well, that le padel is different, that the tracks are different. We did not have the chance to practice on the new surface of the World Padel Tour. We didn't know the surface had been changed. This was communicated late, and we were unable to train on this surface. Maybe other players were able to do it, so this change of surface surprised us. So we have to adapt, and that causes doubts when it comes time to play. "
"And in Alicante we found ourselves up against a pair that are becoming very dangerous because they get along perfectly on the pitch. They play completely relaxed and without pressure. They got over us, and we have to learn from our mistakes, try to see where we can hurt them, and come back with even more desire to Vigo. "
"We will work to be invincible"
Lorenzo Lecci Lopez: How do you turn media pressure and fan expectations into something more on the pitch?
Sanyo Gutierrez:"I don't think it's working in our favor. Bela and Sanyo have never played together, that's the reality. We only had 3 matches together with the Argentine selection, without having trained, and without ever having shared anything together. "
"By our names people thought we were going to be invincible. But we haven't proven anything yet. We want to do it, and we are working to be, maybe one day, an invincible pair, but so far we have won Madrid and lost in the quarterfinals to Alicante. That's what's on the table. "
With Bela, a long project
Lorenzo Lecci Lopez: With Bela, is the plan to do a project over several years?
Sanyo Gutierrez:"We are very happy to play together today - although that may change, and the padel has already proven that if the results do not follow it can go fast -. We want to progress together. If we continue to get along as we get along safe and off the pitch, and the results follow, we will continue until the results are truly over. If we see ourselves here at 45 and 40 suffering without being able to win a single match, obviously we will look for an alternative. But if the results are there, we'll play together for a long time.
The formula to beat Lebron / Galan
Lorenzo Lecci Lopez: With Tapia, Bela often passed to the right. Can you imagine changing positions to surprise your opponent?
Sanyo Gutierrez:"No, this is not planned. Actually, I don't really know, we haven't talked about it. As an alternative, we know that both of us can play both ways. I do not share the idea of ​​constantly changing sides. A small change to surprise on one point why not, but not on a regular basis. He is very good on the left, and I am what I am on the right. "
Lorenzo Lecci Lopez: The goal is No. 1, but Lebron / Galan impresses. What's the plan to hurt them?
Sanyo Gutierrez:"I couldn't find the plan last year. Bela found it. I lost the 6 times i played them. The previous year I had played 6 times against Lebron and won 5. I never played against them with Bela… I have a more or less idea of ​​what to do to hurt them, but they are excellent . They are very comprehensive. They arrived at Alicante with a not very fast track, and they won. Against them you have to be excellent, because their low level is very good. "
Reinvent yourself every day
Lorenzo Lecci Lopez: The padel is always faster. Do you have to adapt by speeding up your game, or can you keep your playing style and slow it down? padel ?
Sanyo Gutierrez:"I think we can add things to the base. So we want to add things to our game to stay competitive. It's clear to us, we are not going to play very slow. We know that we have to speed up the ball - besides we have never been players who always played slowly. What we often do is slow down on a fast track, and speed up on a slow track. "

"We have to reinvent ourselves every time, because young people are always bigger, always stronger physically and always cover more ground."

"Stupa closed my mouth, Ruiz impresses"
Lorenzo Lecci Lopez: Many consider you to be the best player on the right. Who is the player who surprises you the most in this position?
Sanyo Gutierrez:"Alex Ruiz without a doubt. He plays very well. I am very sincere and sometimes I talk a little too much. When Franco Stupa told me he was going to play with it Alex Ruiz, I told him that I didn't like it, because I saw him a little stagnant. And I told him to take a younger player who can surprise. But honestly, I have nothing to say, he closed my mouthe. I have to tell him: "you were right Franco". He saw something that he did not see. I always got along great with Alex, beyond the padel. His progression this year is impressive. "
Lorenzo Lecci Lopez: With Stupa, you took leadership. What are the points that you take away from this stage with him?
Sanyo Gutierrez:"It's been a tough year, and we couldn't really combine our games. We had to do two pre-seasons, and we weren't living in the same city, so we weren't sharing as much time as other pairs. All in one season with only 11 tournaments, that makes it difficult. "
"Maybe it's also because we were too different players. Watch Franco today what he's doing with Ruiz. With me he didn't feel so comfortable. I learn from each teammate, and I know that I will no longer play with a player who has the characteristics of Franco. "
"I will play as long as I have fun"
Lorenzo Lecci Lopez: If you do like Bela, you have at least 6 years left in the padel professional. Do you have the mental and physical strength to go on for so long?
Sanyo Gutierrez:"I think that Yes. I love to play, but I wish I could be competitive. I am not going to say today that I will quit in 8 years because it will depend on the level. If in 4 years I see that I am overwhelmed, I will not play to suffer. But I'll play as long as I have fun, and I think it's going to be a long time because I love to play. (laughs) "
"Coello and Tapia would make a great pair"
Lorenzo Lecci Lopez: Who has more future, Coello or Tapia?
Sanyo Gutierrez:"Wall is a phenomenon. He has already won tournaments, a Master Final. It is our great hope in Argentina. I would love for him to continue to improve, because he is one of those who will stay when the "little old people" that we are go. "
"Coello is only at the beginning, but I like it very much. I used to train a lot with him, and when I saw him I immediately thought he was going to be dangerous. They would be very good together. "
Lorenzo Lecci Lopez: What is your opinion on the "punto de oro"?
Sanyo Gutierrez:"I think it is a great success. At first I didn't like it, and I didn't agree, but I think it's a good thing. You know the game is going to end, and it causes something very beautiful in the viewer. Everyone stops to see the punto de oro. "
Lorenzo Lecci Lopez: Who is the player and the pair on the women's circuit that impress you the most?
Sanyo Gutierrez:"I think that Aranza Osoro is playing very well this year with the two victories over the Martas. In my opinion, this is the big surprise. "
"My favorite pair is Paula Josemaria and Ari Sanchez and she is going to be very strong even if she lost the final easily. Salzar / Triay also obviously, and Gonzalez / Sainz, but I think the Josemaria / Sanchez formula is going to be very good. "
Le padel in the world
Lorenzo Lecci Lopez: How do you see it development of padel in Argentina, which has recently experienced a new boom ?
Sanyo Gutierrez:"The padel Argentinian has the advantage of having great trainers. The first country of padel was Argentina. Argentina's problem is our economy. For an Argentinian player, if he is not helped economically, it is very, very difficult to come and play in Spain. We must help them because there are great talents, and not only in Argentina, but also in Brazil, Paraguay, Mexico. "
Lorenzo Lecci Lopez: How do you see it padel French?
Sanyo Gutierrez:"The padel French grows up, and still has a lot of room for improvement. This is only the beginning, and it is a country that has a very great power, especially with the history of tennis, and I think that France will be able to do padel something very big. From there, great players will emerge. Those who are already there have made enormous progress, and they will allow the young people who come behind to be able to practice this sport. "
Lorenzo Lecci Lopez: What is your take on the incredible growth of padel in Sweden ?
Sanyo Gutierrez:"I was able to go to Sweden with Bela, and frankly I couldn't believe it. We went to a club that had 13 courts, and everything was full until 22pm. The club manager showed us the occupancy of his other clubs, and everything was full. We are talking about more than forty courts! I do not believe it. The growth is very, very fast. "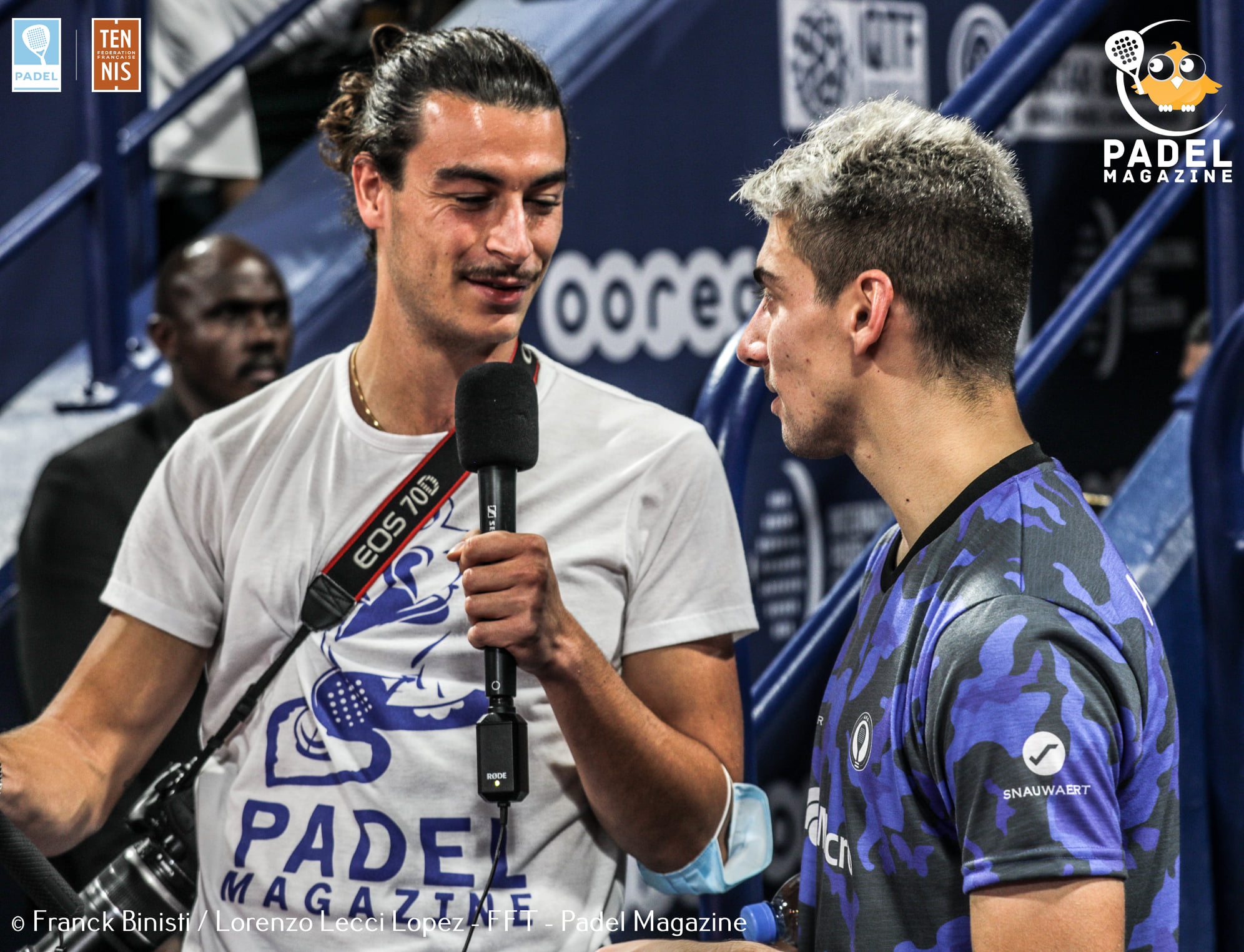 From his names, we can guess his Spanish and Italian origins. Lorenzo is a multilingual passionate about sports: journalism by vocation and events by worship are his two legs. He is the international gentleman of Padel Magazine. You will often see it on the various international competitions, but also on the major French events. @eyeofpadel on Instagram to see his best photos of padel !