The tracks of padel often give rise to new and crazy scenes. Between the shots coming from nowhere, the unimaginable misses and the verbal outings of certain players, we are served.
Here is for you the compilation of ten cult phrases this season on the slopes and on the benches:
Heated exchange between Mike Yanguas and Juan Lebron
To put things in context, we are at the Greenweez Paris Major, and the Lebron/Galan pair faces Yanguas/Belasteguin. Juan Lebron complains to the referee about the time it takes Mike Yanguas to serve. A little annoyed, Mike Yanguas murmurs something, probably unpleasant to hear. It was Alejandro Galan who reacted first, reporting to Lebron what he perceived. The exchange that followed was tense:
Mike: "I was saying it for myself."
Alejandro: "I heard you."
Juan: "Don't be rude, Yanguas."
In the end, victory for Juan Lebron and Alejandro Galan who thus reached the semi-finals.
Tremendo ENGANCHÓN Yangua-Lebrón

Yanguas saca de quicio a Lebrón por loser el tiempo. Y Galán was pica by a comment from Mike:

Mike: "Lo digo para mí"
Galán: "Te he escuchado"
Lebrón: "No seas maleducado, Yanguas!"#ParisMajor #Galan #Lebron #Yanguas #Bela pic.twitter.com/NHVBffQhDF

— Out Of Context Padel (@ocpadel) September 8, 2023
And Mike Yanguas unpins Juan Lebron
Still during this match between Yanguas/Belasteguin and Lebron/Galan, "El Lobo" seemed totally destabilized by the play of Mike Yanguas. On the bench, he expresses his frustration with a certain... verve to his coach, Marianno Amat:
Juan "I'm ch*ing on my f*cking mother, motherf*cker"
Juan LeBron's coach knew how to find the right words to reassure his player and guide him towards victory.
The Yanguas brujería is very effective in the Lobo

"Me cago en mi p… madre, Mariano!!!"#ParisMajor #Galan #Lebron #Yanguas #Bela pic.twitter.com/DVrJ8AQFIP

— Out Of Context Padel (@ocpadel) September 8, 2023
Juan Lebron, a regular at verbal breakdowns
Always and again Juan Lebron, the hot blood of the circuit. Facing Jorge Ruiz and Javi Martinez.
We know it, Lebron was not at the top of his form during this match, although he ultimately won it with teammate Alejandro Galan. And, as sometimes happens to him, El Lobo lost his cool on the bench.
Juan "Man, I prefer to stay behind because... I don't wear it... I don't wear it. It's a fucking reality".
Remember that Juan LeBron finished the match in tears.
The PESADILLA of Lebron

Juan is sincere in the bank with his lucha interior:

"Prefiero quedarme atrás… porque no la meto, no la meto!"
"Es la puta realidad"#padel #MadridP1 #Lebron #Galan #JorgeRuiz #Martinez pic.twitter.com/HZrKoMAwkK

— Out Of Context Padel (@ocpadel) July 19, 2023
Sometimes, Gaby Reca doesn't have time to get into shape
Sometimes, Gaby Reca doesn't have time to wear gloves.
In the final of the Greenweez Paris Major between Navarro/Chingotto and Coello/Tapia, on the bench, the emblematic coach Gaby Reca gives his instructions to Fede Chingotto, who we see totally overwhelmed. A tense exchange between the player and the coach follows:
Federico : "I'm hot because you make me feel guilty"
Gaby : "Okay, then let's continue like this!
Chingotto : "No no. I know. Pardon"
Gaby "We are in the final. Put your…. on the table, okay ! "
Despite his somewhat original encouragement, Gaby Reca did not succeed in leading his team to the title.
Tremendo RAPAPOLVO by Gaby Reca in Chingo
…There is no way to change the language:

-Me hot… porque me echás la culpa!
-Estamos in the final. Poné los huevos en la mesa, va!#ParisMajor #Chingotto #Paquito #Coello #Tapia pic.twitter.com/zjPK5aQ1L7

— Out Of Context Padel (@ocpadel) September 10, 2023
Even pros can complain about lighting
When for his Premier Padel from Madrid, Victor Ruiz completely lost his composure due to the light of the court spotlights. When facing Pablo Lijo and Miguel Semmler, Victor Ruiz could not contain his frustration:
Viktor: "The fucking lights are in my face all the time, it's disastrous."
This match had already been talked about while Pablo Lijo had acted up…again.
Víctor Ruiz DESESPERADO con la illumination de la cancha.
"Las putas luces te están dando en la cara todo el rato"
"No veo una mierda!"
Because it has not passed with the dimensions of the front advertising valley.#MadridP1 #VictorRuiz #bergamini #Lijo #Semmler pic.twitter.com/LbEAF7yRnb

— Out Of Context Padel (@ocpadel) July 19, 2023
Javi Ruiz didn't look very happy
Blocks are often impressive blows, combining reflexes and wrist strength. The master in this matter is undoubtedly Mike Yanguas. However, as spectacular as this gesture was, Javi Ruiz was not at all impressed during the WPT Alicante Open and made it known to the referee:
Javi Ruiz "one day they will kill us"
Gaston Malacalza : "But it's dangerous"
Javi Ruiz : "One day, we will have to be careful"
Finally, it is Gonzalo Rubio who will tell his teammate to calm down.
Another PELIGROSO blockage occurs during recovery.

Javi Ruiz ESTALLA:
-Algún día nos van a matar!

Gastón le da la razón pero Gonzalo ve spectacle.

Galán se llevó lo suyo de Yanguas. Debería regularse esta jugada?#padel #AlicanteOpen500 #Rubio #Ruiz #Diestro pic.twitter.com/55kONhgKqT

— Out Of Context Padel (@ocpadel) May 6, 2023
Even Leo Augsburger doesn't like being scolded
We know Leo Augsburger for his explosiveness and his powerful smashes. However, during the Premier Padel in Italy, this impetuous side did not please Javi Rico, his partner. During the point, Javi gives instructions to Leo who does not follow them. Naturally, the young player on the left misses his smash. On the bench, the two players explain:
Javi Rico: "Asshole, don't blame me. It's because I know what's going to happen, not because I don't trust you."
A heated exchange and a sharply lost match for the two men against Diestro/Leal, 6 / 0 6 / 2.
Reproaches between Javi Rico and Leo Augsburger that llegan al banquillo:
– Cabrón, no me eches la bronca. If your song is so it's okay!#padel #ItalyMajor #Rico #Augsburger #Diestro #Leal pic.twitter.com/zz5FOlH0Sy

— Out Of Context Padel (@ocpadel) July 11, 2023
We cannot say that Martin Di Nenno does not have the rage to win
On the bench, Martin Di Nenno is also the master of improbable exits. Snarky and full of rage to win, the Argentinian does not often allow himself to be stepped on. During the Masters in Valladolid, against the imperial Coello and Tapia, Martin felt the need to re-motivate himself. After a monologue of encouragement for himself and Franco Stupaczuk, he concluded his tirade with:
Martin: "My sister's Ch…."
It seems that Martin Di Nenno mobilized his troops, because he and his teammate managed to win this match.
Martín CABREADÍSIMO with his game

"Lo vamos a buscar… CON UNOS ASÍ!#padel #ValladolidMaster23 #DiNenno #Stupa #Coello #Tapia #final pic.twitter.com/ETgNKtUkn2

— Out Of Context Padel (@ocpadel) June 25, 2023
When Sanyo gives… new advice to Momo Gonzalez
Sometimes you have to know how to choose your words to tell your teammate that their serve is not up to par. Sanyo Gutiérrez tried, in any case, during the Human Padel Open. During a change of sides, the magician gives some advice to Momo to make him understand that the service is not optimal.
Sanyo: "Every time you serve, they return a very good lob. I don't even know what to ask you anymore. Serve with the ball higher, even if it means risking a service error, but do something."
Finally, the pair came out and the two men won the match 6/3 7/5 against Alonso/Esbri.
La técnica dialectica de Sanyo para decirle a Momo que su saque es una mierda.

"Momo, you see a decision on a cosa…"
"Ni se lo que tengo que pedirte"
"Pedítelo vos mismo"
"…Que te cobren falta de saque…"

DAY#padel # FrenchOpen23 #Momo #sanyo #Esbri #Alonso pic.twitter.com/cN28UiZIsW

— Out Of Context Padel (@ocpadel) June 15, 2023
Everyone loves Paquito… or almost
We are at the Marbella Masters. Chingotto and Navarro are opposed to Collago and Jurado. As he is about to serve, a spectator disrupts Paquito's concentration – well, Paquito's "concentration"… A long discussion follows with the spectator, then with the referee.
Paquito: "Do you have a problem?"
Chingotto: "Quiet, Paco."
Ultimately, this interruption did not have any major impact for the Chingotto/Navarro pair, who ended up winning 6/4 7/6. However, Paco does not stop there and expresses his thoughts to the referee of the match:
Paquito: "You call security and get him out. We're not playing football. It's your job to take the guy in white and bring him out."
Paquito ENCENDIDO se ENCARA con uno del publico por insultarle

"TIENES ALGÚN PROBLEMA? SÍ, TÚ!!"

Leadership at Honorio:
"Al de blanco que lo saquen!" "Are you deber!"
#padel #MarbellaMaster23 #Paquito #Chingotto #Collado #Jurado pic.twitter.com/4G5UecnTiT

— Out Of Context Padel (@ocpadel) May 30, 2023
And you, what moment of the 2023 season marked you the most?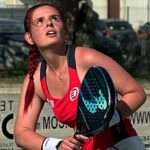 It was his brother who one day told him to accompany him on a track. padel, since then, Gwenaëlle has never left the court. Except when it comes to going to watch the broadcast of Padel Magazine, World Padel Tour… or Premier Padel…or the French Championships. In short, she is a fan of this sport.