The year 2021 is about to end and the racket brands are now launching their new collections for the 2022 season.
It's your turn from adidas Padel to unveil its new nuggets.
The brand with three bars arrives again this year with high quality products and very ambitious novelties to satisfy practitioners, whatever their level!
The Metalbone Range
This year, the Metalbone range is more complete than ever! Indeed, there are 7 models combining various foams and fibers thus offering palas adapted to all. Among the flagship technologies of this line we find theOCTAGONAL STRUCTURE, a novelty allowing to reinforce the pala and to give it more rigidity. Technology OCTAGONAL SPIN BLADE is also there to make your effects destructive.
Alejandro galan, number 1 player of the WPT will have this year not one but two signature models: the Metalbone 3.1 and the 3.1 HRD! As last year, the palas of the Spaniard have the WEIGHT AND BALANCE SYSTEM which allows you to adjust the weight and balance of your racquet.
Metalbone 3.1
This pala is intended for advanced to professional level players with an offensive style of play.
Diamond-shaped, it has a fairly high sweet-spot, which gives it a lot of power. The foam EVA SOFT PERFORMANCE and the rough carbon faces will offer players a good mix between ball speed and comfort, for always pleasant sensations, even from the bottom of the track!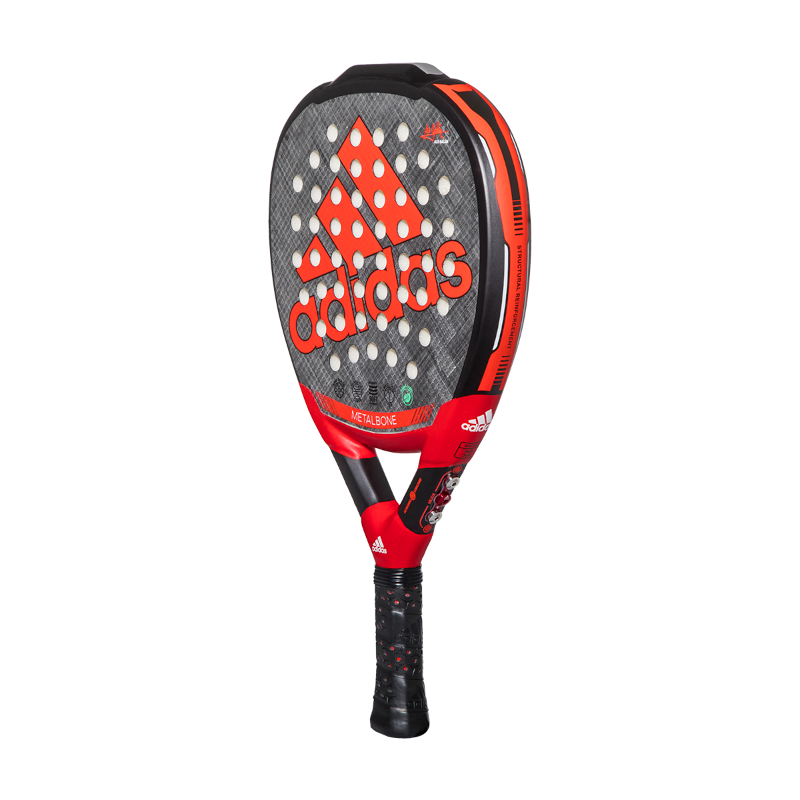 Metalbone 3.1 HRD
This is one of the big novelties of this year, a firmer version of Metalbone 3.1.

It will be the other weapon of the number 1 who will be able to choose his pala according to the playing conditions. This racket is the most aggressive of the range. Its foam EVA HIGH MEMORY will endow your strikes with definitive power and more precision. A pala for those who hit hard and have a good technique, a bit like a certain… Ale Galan!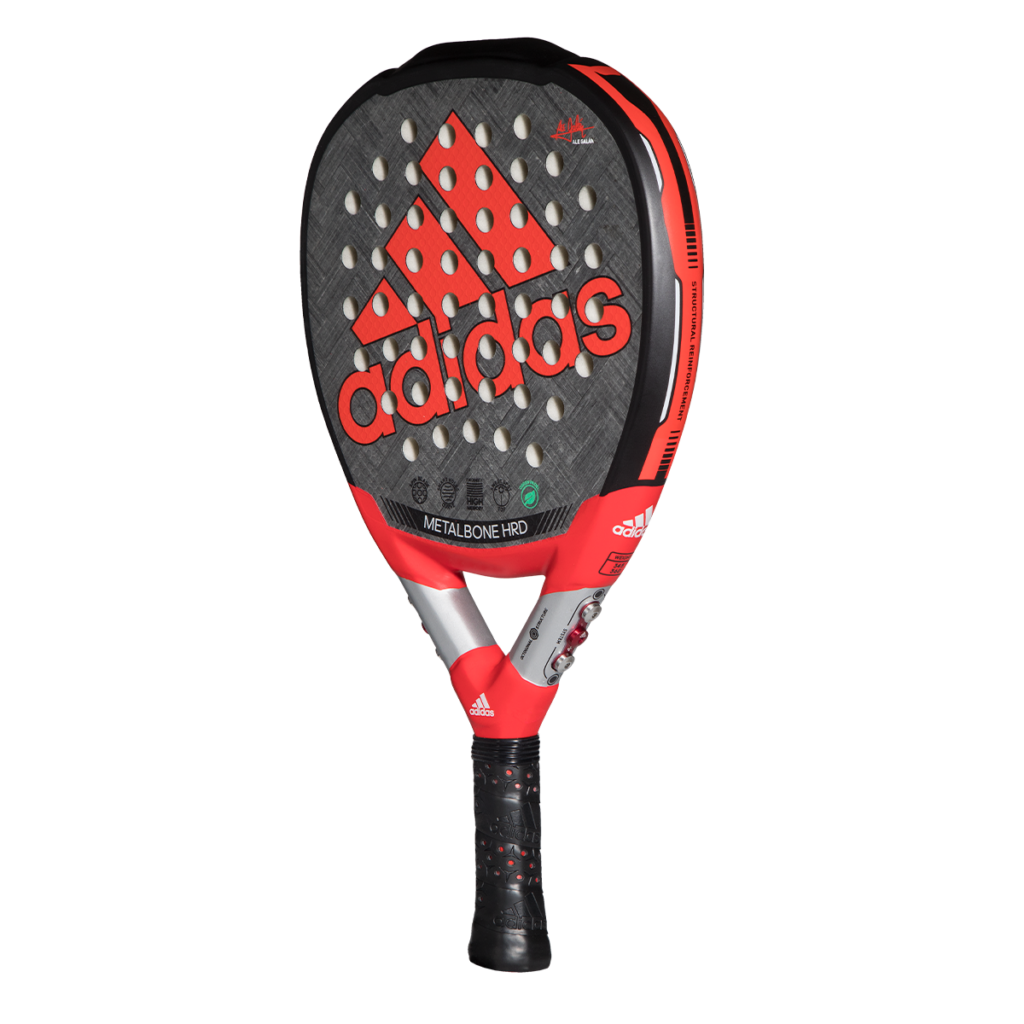 Metalbone CTRL 3.1
This pala is the round version of the Metalbone 3.1. It is intended for players who want more maneuverability. Equipped with the same technologies as foam EVA SOFT PERFORMANCE, it will give you control, comfort and power over your attacks.
In summary, this is an excellent racquet for the player wanting to practice a padel offensive while keeping control of the game.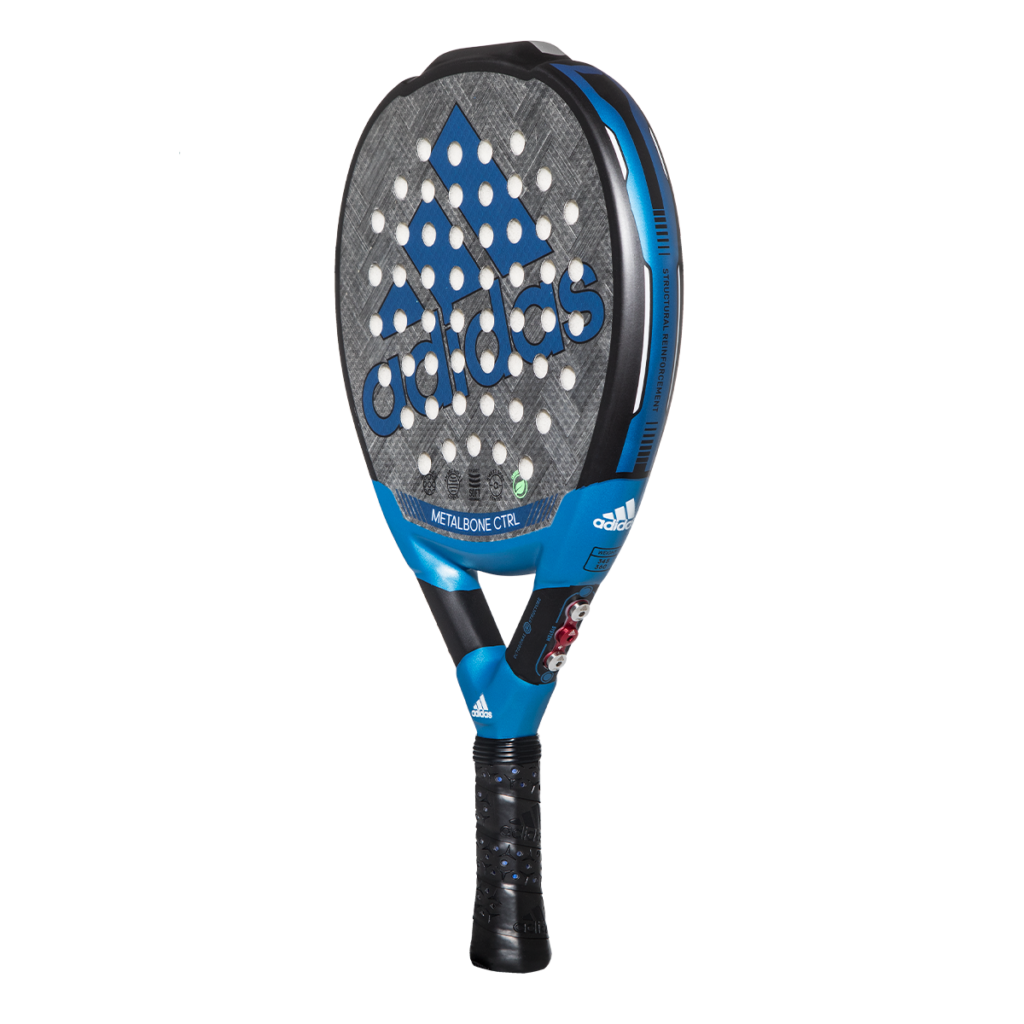 Metalbone Greenpadel
Adidas offers a totally innovative pala, which contains FLAX FIBER flax fiber, 100% biodegradable.
It will delight lovers of padel but also the practitioners most committed to sustainable development.
This diamond-shaped pala features a sandblasted surface SPIN BLADE GRITT to give your strikes a destructive effect. The SOFT PERFORMANCE EVA foam and flax fiber will give you affordable power, perfect for players who practice an offensive game but want a softer touch.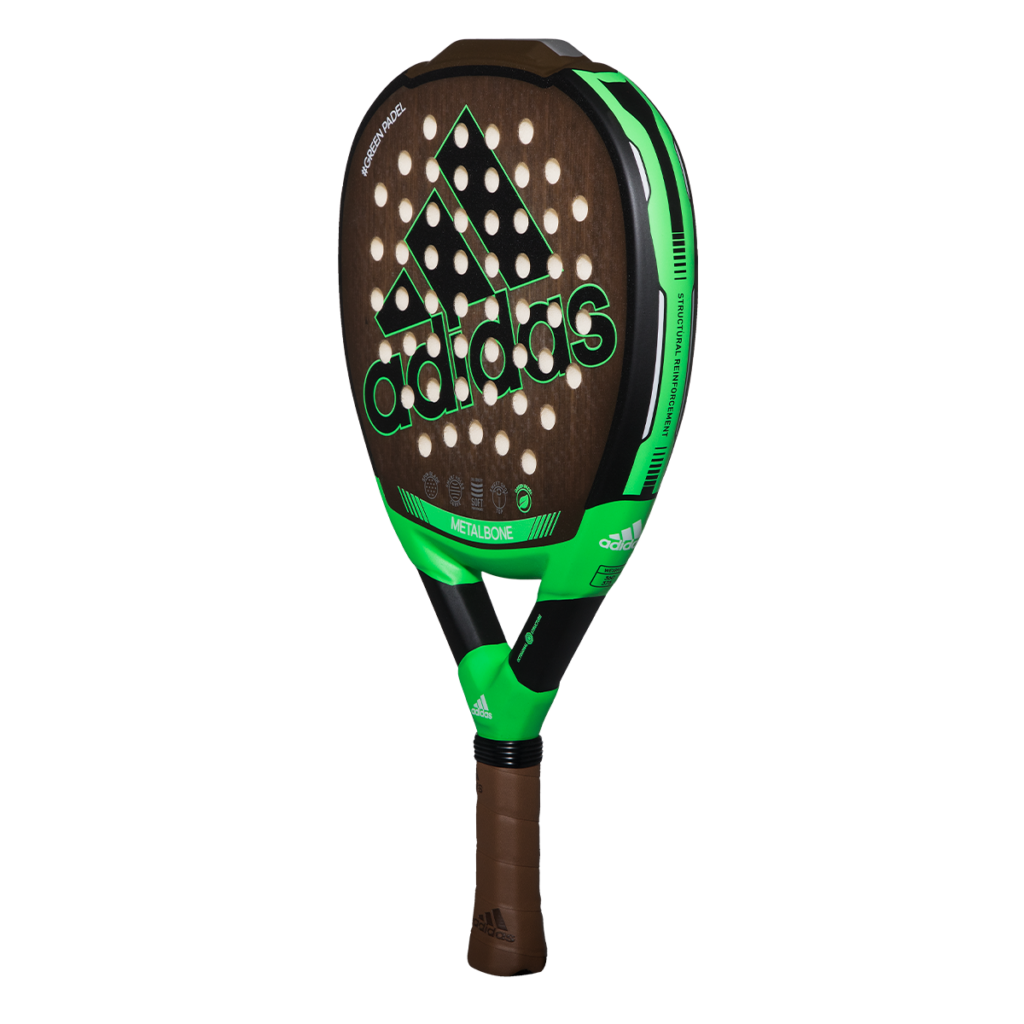 Metalbone Lite 3.1
Offensive thanks to its design and diamond shape, this pala combines power and comfort.
Le SPIN BLADE GRIT will help you to maximize the effects, while the fiberglass faces and the foam EVA SOFT PERFORMANCE will give you more ball output, comfort and vibration absorption.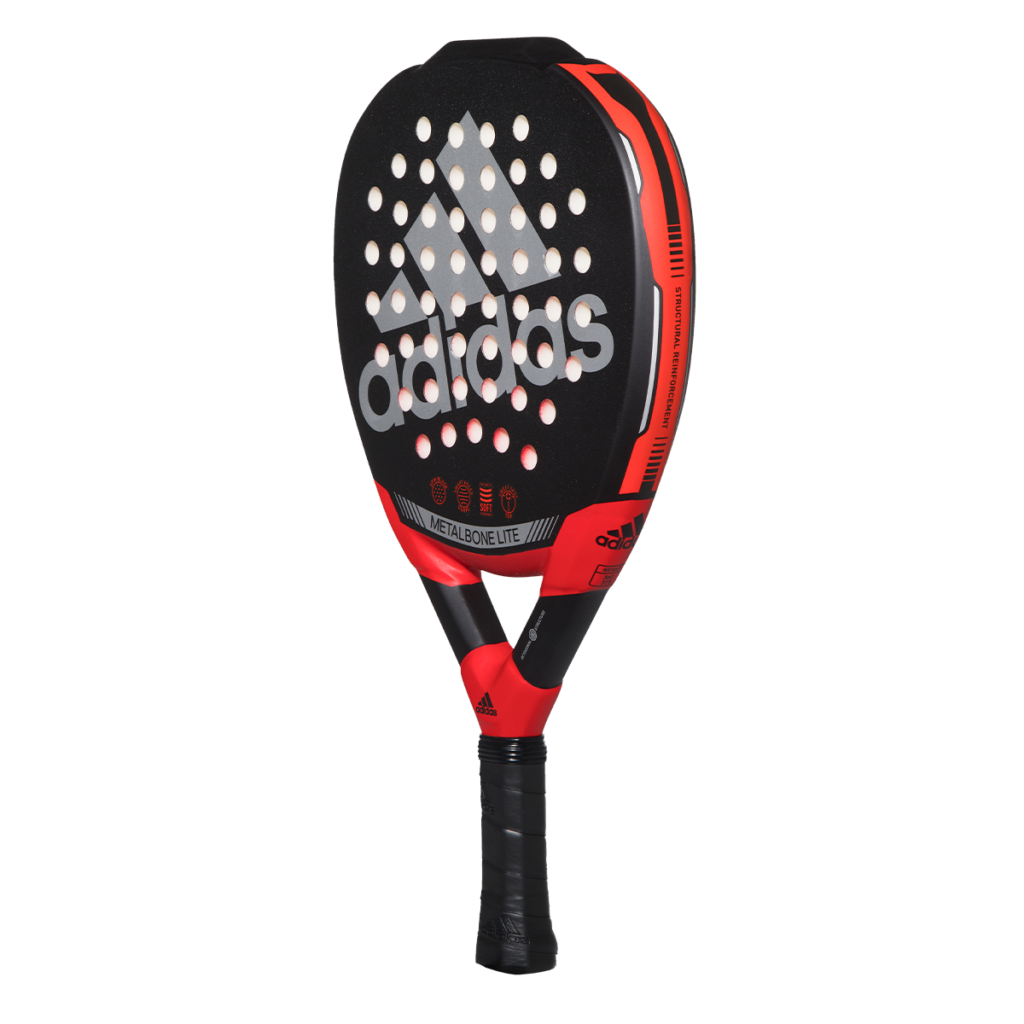 Metalbone Woman Lite
Forwards, this pala is for you. Thanks to its diamond shape, this racket is dedicated to offensive play.
Comfort remains very present on this model thanks to its fiberglass composition and its foam EVA SOFT PERFORMANCE.
To sum up, this pala combines power with comfort and will allow offensive players to shine on the slopes. padel.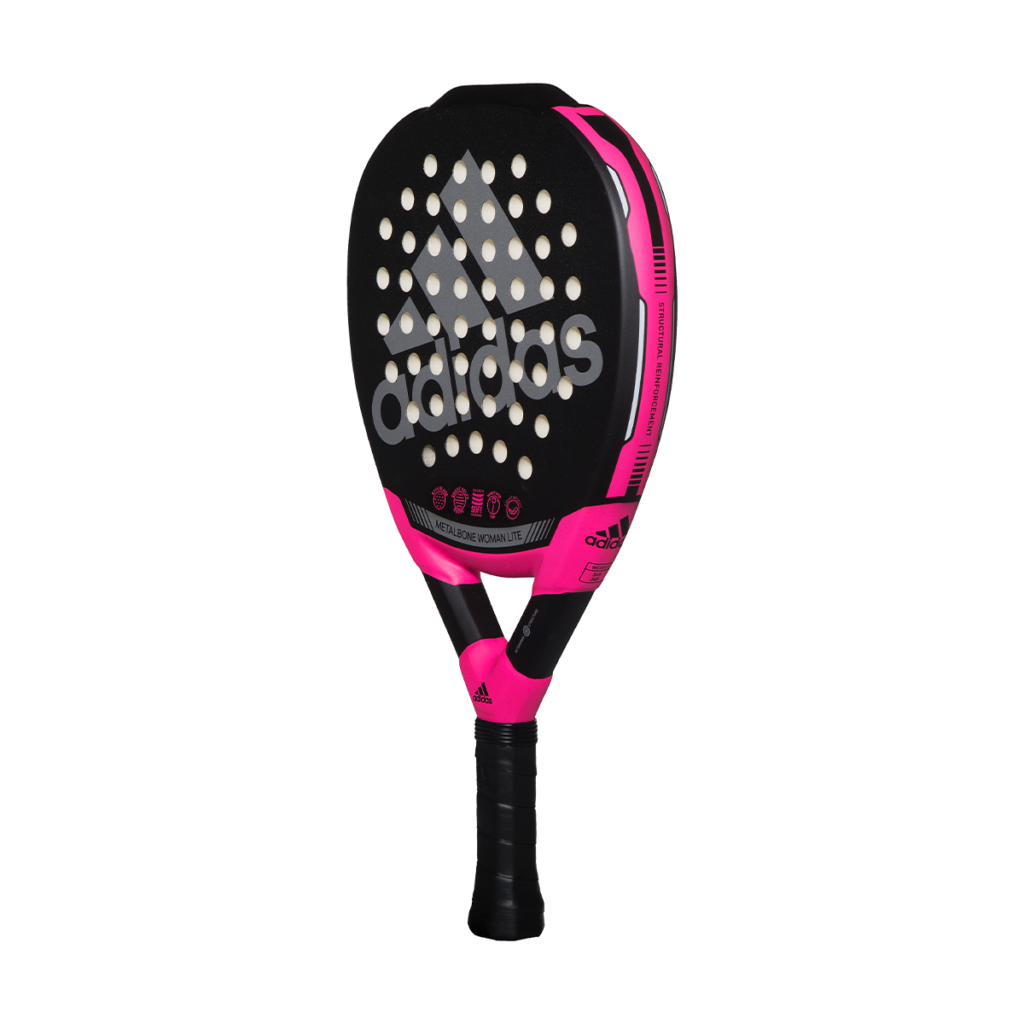 Metalbone Youth 3.1
Here is an excellent racket for young champions with an already assertive attacking game!
In the shape of a diamond, this light pala which has the foam EVA SOFT PERFORMANCE and fiberglass on the sides, will offer young players sensations worthy of the greatest!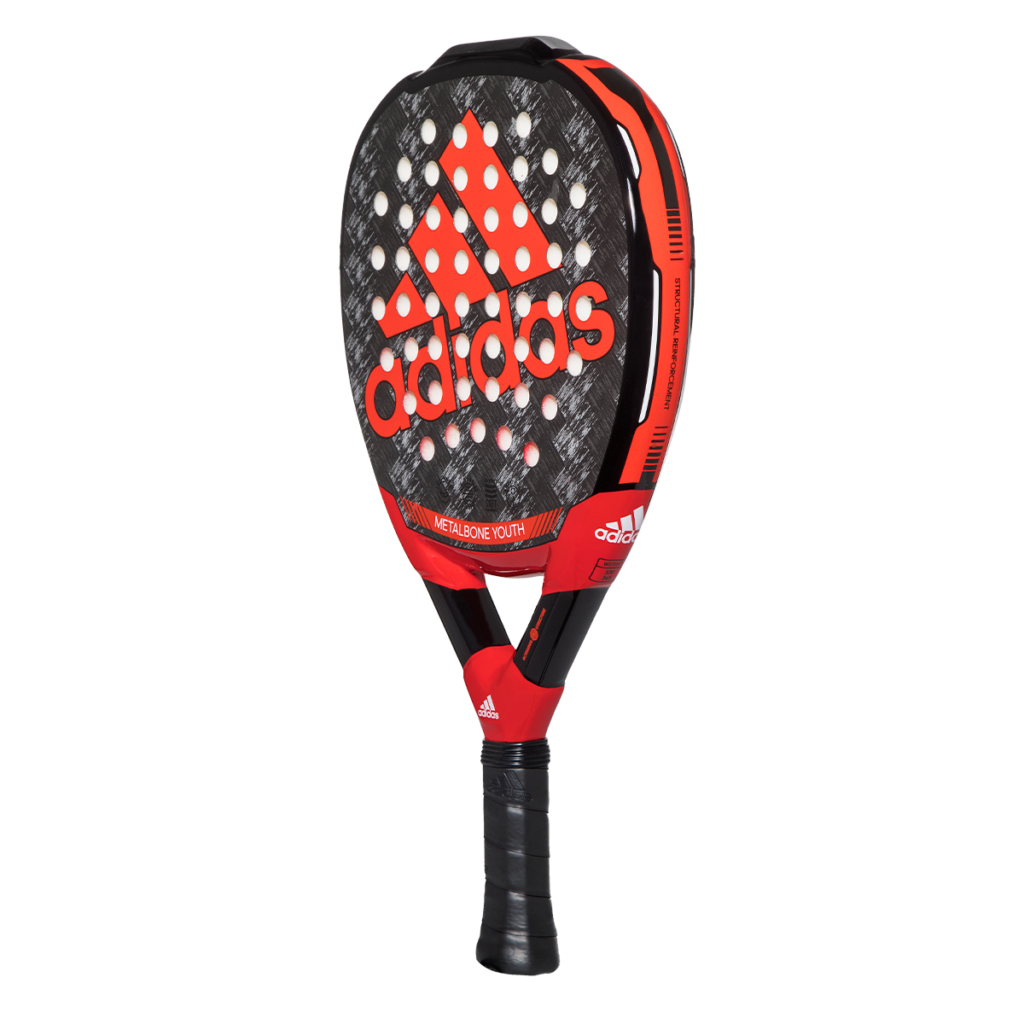 The Adipower range
Adipower 3.1
Sebastian Nerone, although neo-retired, will still have his signature model at Adidas. The Argentinian, an aggressive left-wing player, was known for his viboras wonderfully well executed.
You will understand, this diamond-shaped pala will appeal to offensive players!
15k aluminized carbon fiber and foam EVA HIGH MEMORY of this Adipower 3.1 will deliver the power and precision needed to challenge defenders. the SPIN BLADE MOLD will guarantee you maximum efficiency on your hits with effect!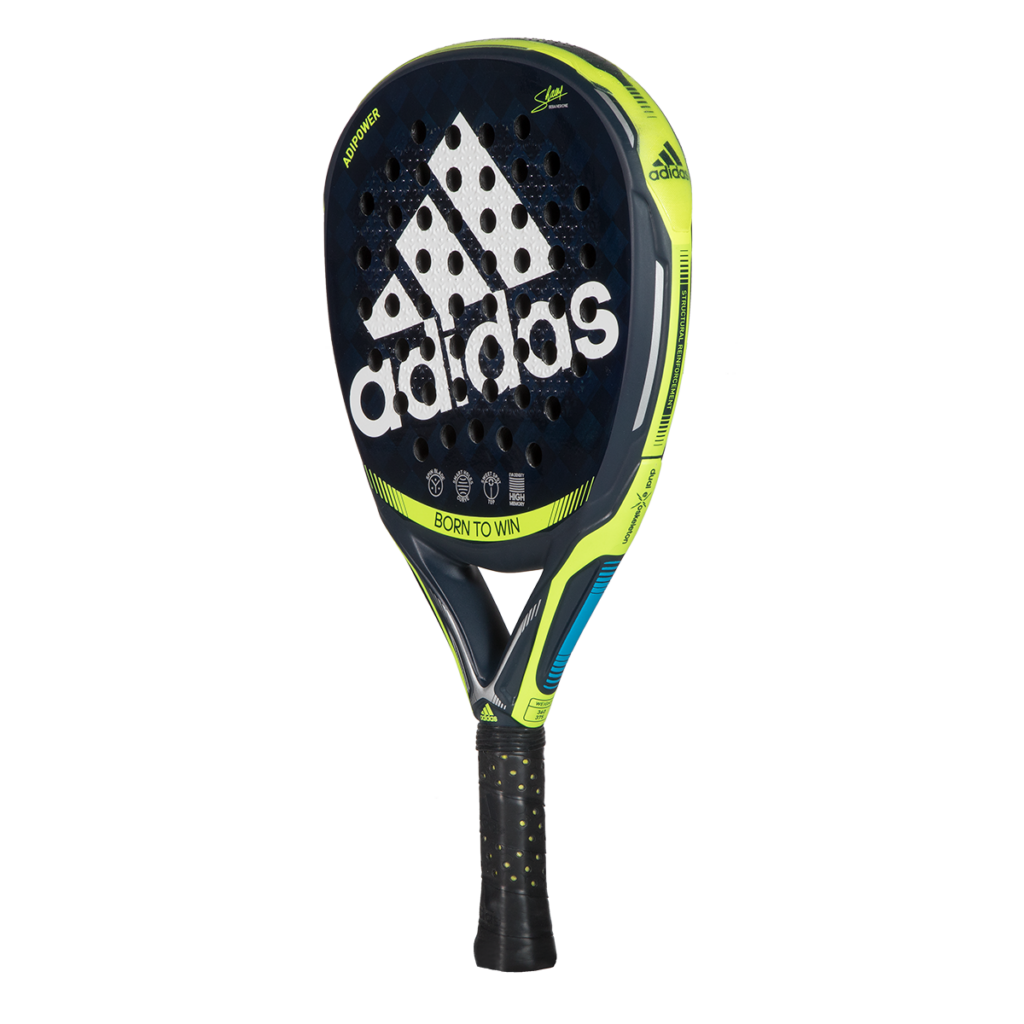 Adipower CTRL 3.1
The pala ofAlex Ruiz gets a makeover. One of the brand's bestsellers returns in an improved version. If we had to describe it in two words we could say: precision et power.
Thanks to its round shape, its composition in 15K aluminized carbon fiber and its foam EVA HIGH MEMORY, this racquet provides its user with a mixture of maneuverability, power and precision. Here again, the technology SPIN BLADE MOLD will assure you high quality effects. In short, an extremely versatile pala that will allow you to be comfortable in any position!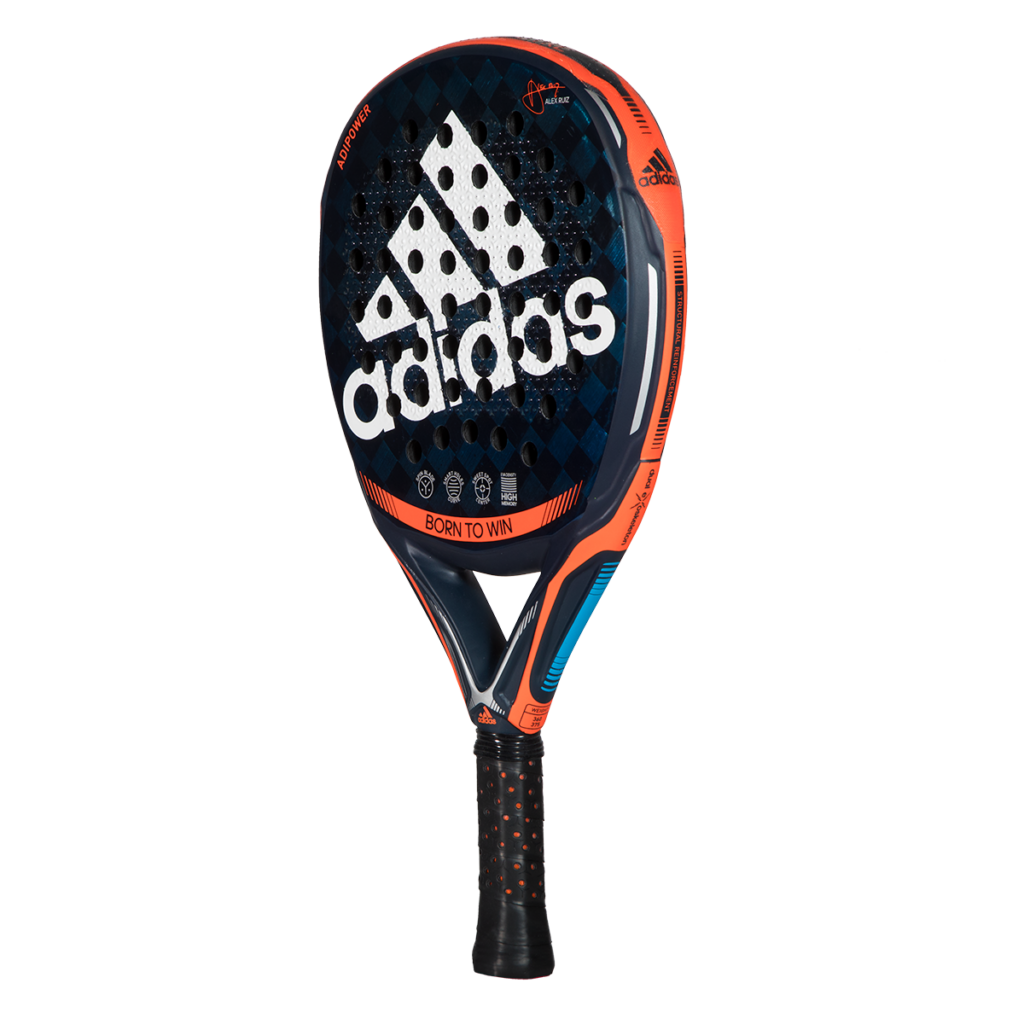 Adipower Light 3.1
The shovel of Martha Ortega. For several years now, it has been one of the brand's emblematic snowshoes.
Thanks to its round shape and lightness, this pala is very manoeuvrable and allows players to perform all shots requiring precision. If you like to work on the point and place the ball in the different corners of the track, this racquet will meet all your expectations.
The foam EVA SOFT ENERGY brings the perfect balance between precision and comfort. As on the palas of Alex Ruiz and Seba Nerone, the SPIN BLADE MOLD will help you gain in quality effects.
On the sides, the 24K aluminized carbon fiber will give you a rigid touch that will ensure good power when you finish!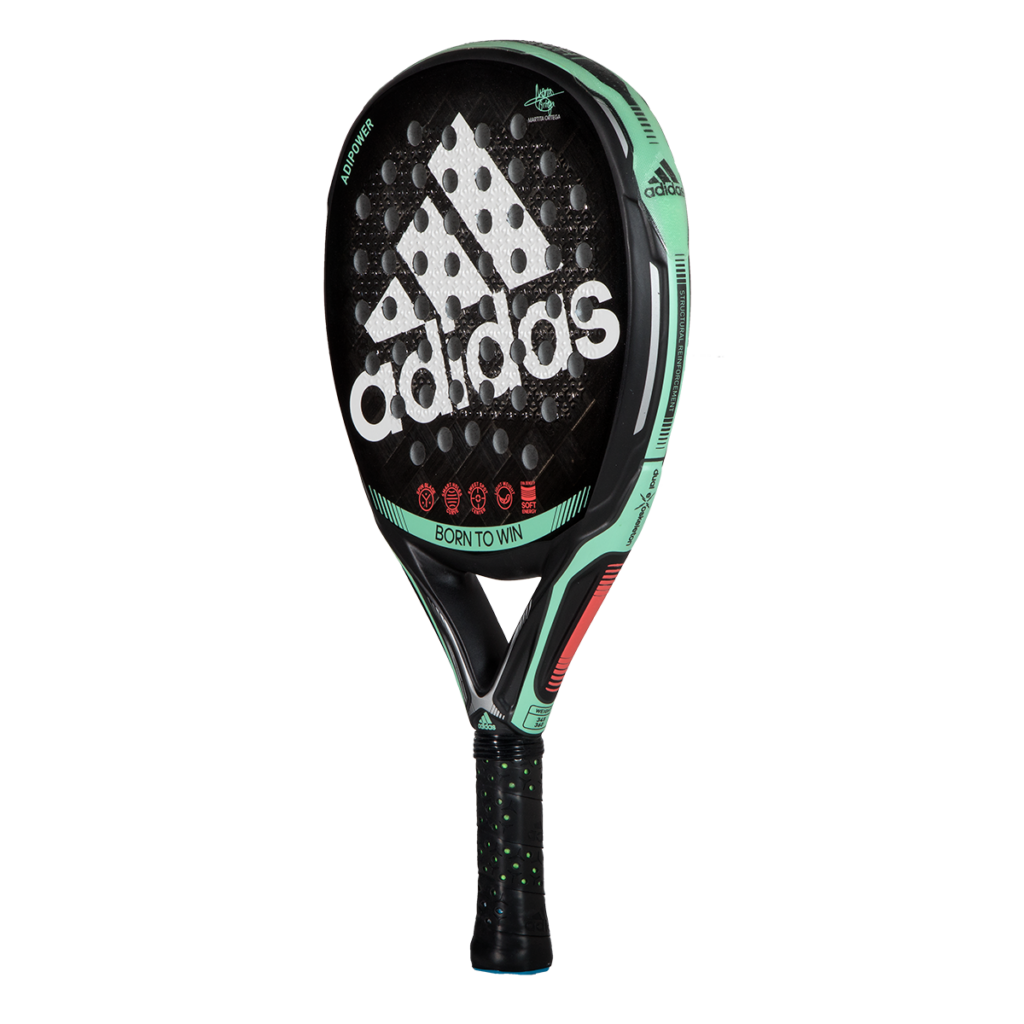 Adipower Greenpadel
Like its sister in the Metalbone line, the Adipower Greenpadel has 100% biodegradable flax fiber faces. Add to that a mousse EVA SOFT PERFORMANCE and you will get maximum convenience.
Round in shape, this eco-responsible pala will allow you to have great maneuverability. As on all Adipower palas, the eXoeskeleton structure will ensure you a compact and firm strike.
With this model, Adidas confirms its desire to invest more seriously in sustainable development by offering more ecological products.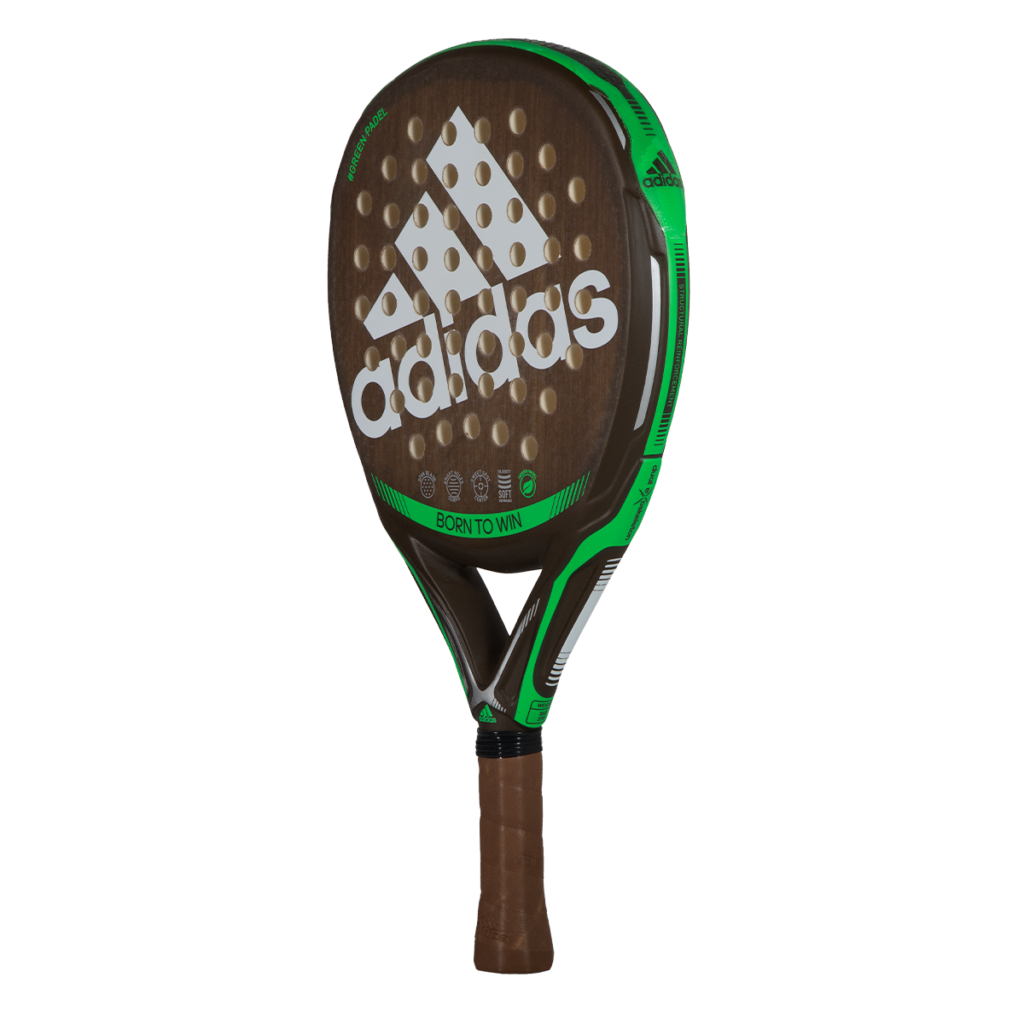 Adipower Lite 3.1
With its diamond shape and weight in mind, it will offer affordable power to players who don't want to balk at comfort and vibration absorption.
The touch of the ball is particularly silky thanks to the association between the foam EVA SOFT PERFORMANCE and fiberglass on the faces.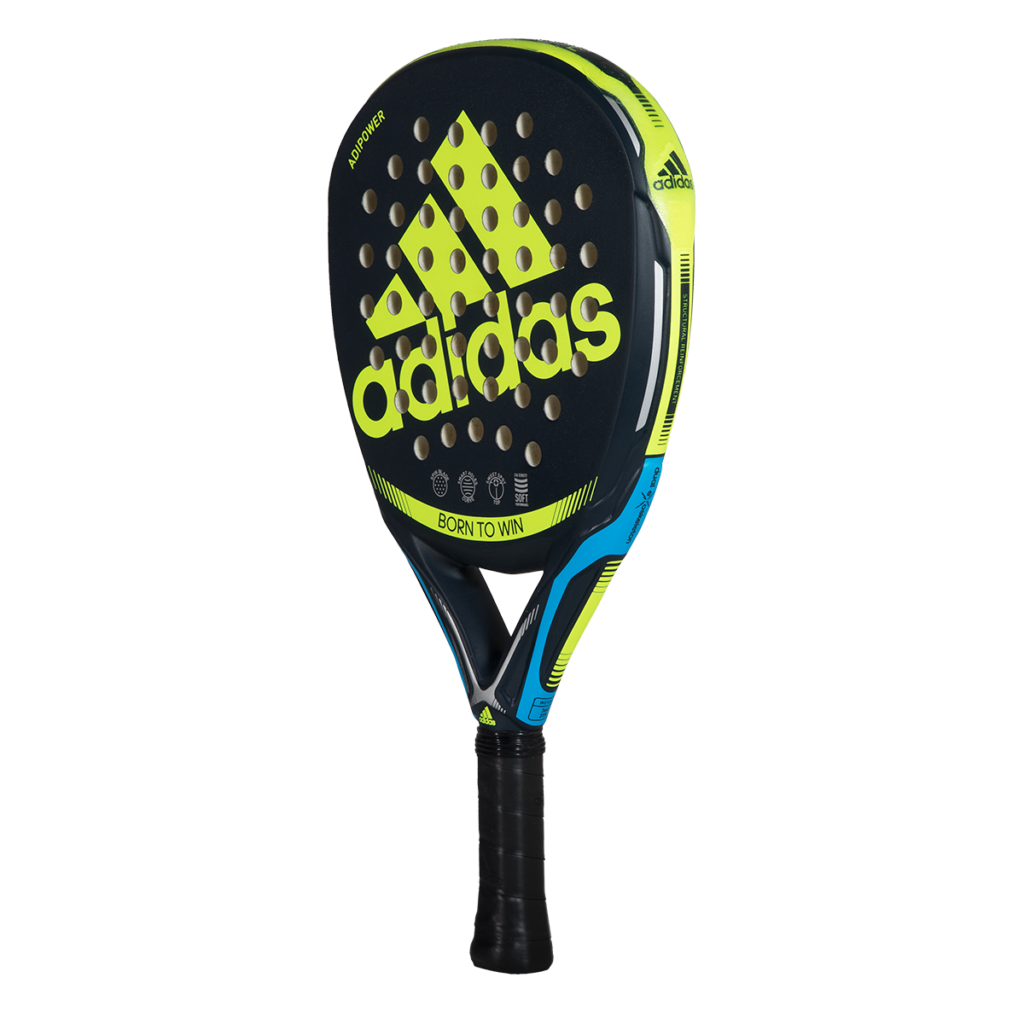 Adipower CRTL Lite 3.1
This is the round version of the Adipower Lite. A pala that will offer the same sensations but with a round shape, and therefore more maneuverability thanks to the sweet-spot located below. A racquet that will delight players who are looking above all for maneuverability and comfort.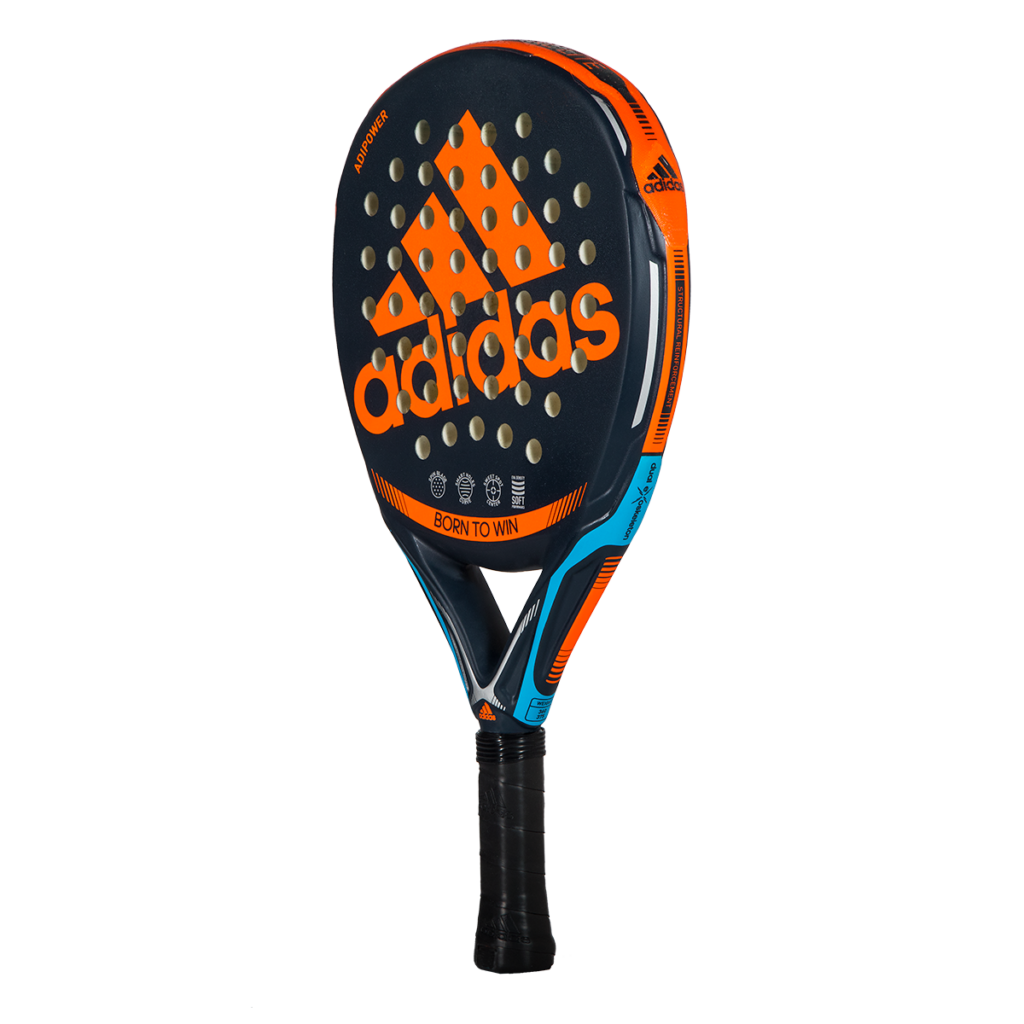 Adipower Junior 3.1
Like Metalbone line, the Adipower line offers a racket specially designed for young champions. This time we find a round shaped pala, for those looking for more maneuverability and who want to be able to control the tempo of the matches!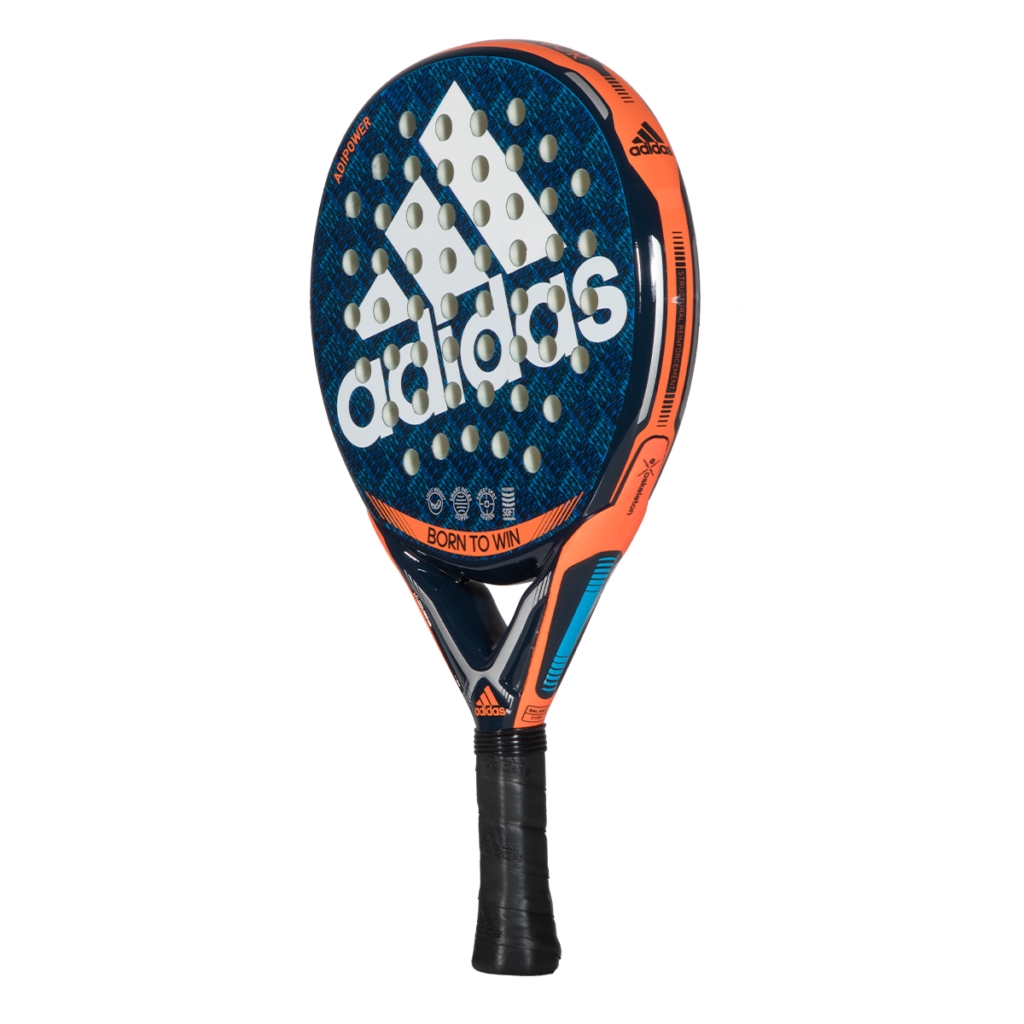 Of course there are other ranges from Adidas: Essnova, RX, or Discovery.
For more information on the brand's entire offer, you just have to click right here.

Team Padel Magazine tries to offer you since 2013 the best of padel, but also surveys, analyzes to try to understand the world of padel. From the game to the politics of our sport, Padel Magazine is at your service.