The Béziers Padel Club is the historic club of the city. Founded in 2017 by Elodie and Renaud Murat, the BPC has seen the evolution of padel in France and the gradual increase in the number of players. The club had to adapt, change its offer in relation to demand, while keeping this "family" spirit.
In the framework of their trilogy (weekend including a P500H, a P500F and a P250Mixte), we went to meet them and discussed their vision of the padel current.
Keeping a club on a human scale
The BPC is a small club in the heart of the city, with four tracks. padel exteriors, two semi-covered and one ground single. Six fields, which is more than enough for the Murat couple. "We already thought about adding tracks, we asked ourselves the question and ultimately, we preferred to keep the club like that", explains Renaud before Élodie adds: "we really want to continue to keep this family spirit and that it does not become a factory".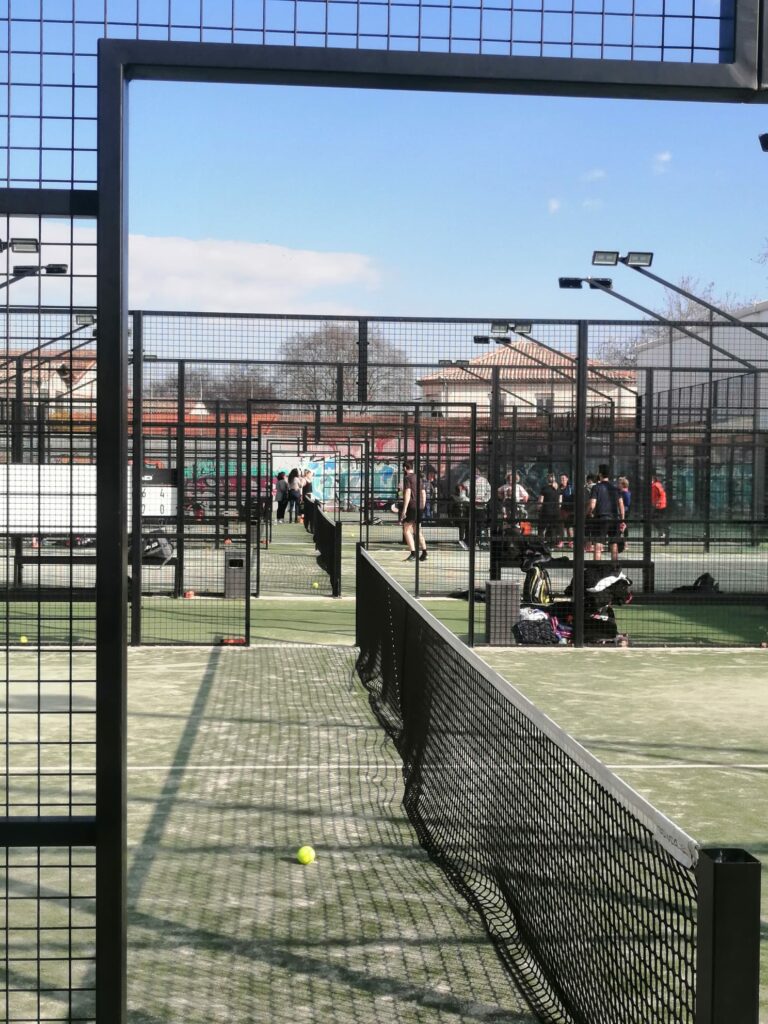 Despite the number of tracks that have been set up in this geographical area in recent years, the Murat couple does not want to expand. "We want people to leave here happy, having had a good time".
Today we count around sixty plots of land around Béziers, but numerous construction projects in the outskirts. Sérignan, Sauvian, Tourbes… in total around fifteen fields should see the light of day. Projects for 2024 which will only increase supply. "We must not do like in Sweden or Spain where there was too much land", intervenes Elodie.
Offer entertainment, accessible to all
If the courts are often full between 18 p.m. and 21 p.m., we had to find solutions to fill the center during off-peak hours. To do this, they have created a whole bunch of activities, accessible for all levels. This idea of ​​animation first started with Élodie and Renaud, before they surrounded themselves with two employees: José and Guillaume. A real added value for Élodie:"We regularly hold team meetings to plan and see what we can organize. and what activities can be planned".
The arrival of José and Guillaume was all the more beneficial as they arrived with new ideas. Because at padel, everything goes very quickly as Elodie reminds us: "We will have an idea, it will please and work well. Then it will run out of steam, because the level of the players is constantly evolving". To which Renaud adds "In the padel, you have to know how to reinvent yourself".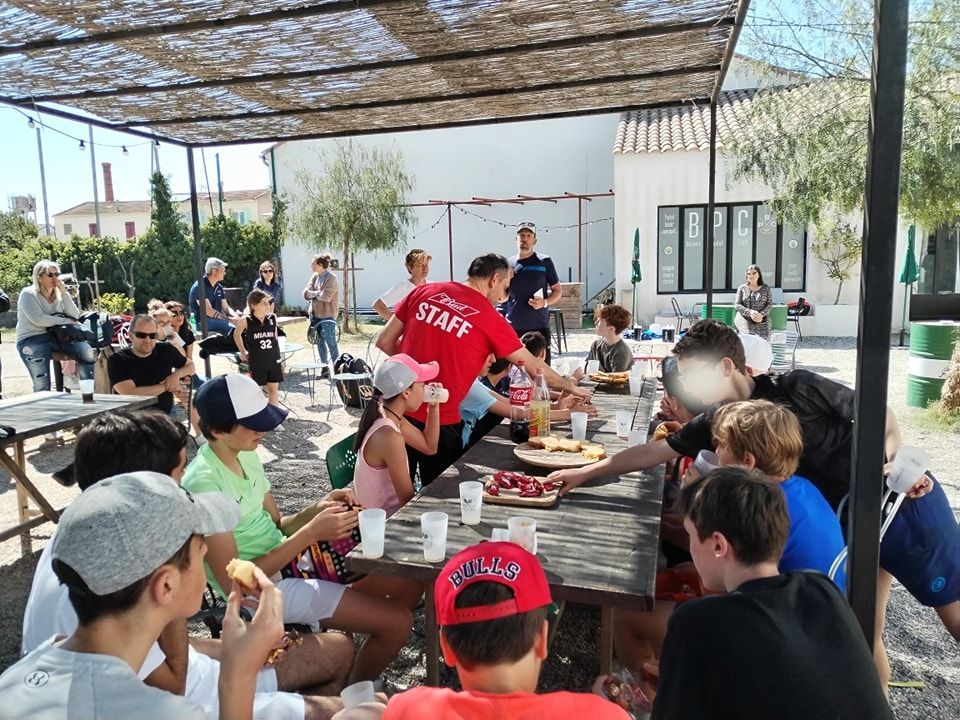 Today, both weekdays and weekends, the BPC offers activities for everyone: for beginners and more experienced players. Activities for families and children, but also activities combining meals (like raclette for example) and up-and-down activities.
Making choices for tournaments
What is most important to Renaud and Elodie Murat is that even during tournaments, good humor takes precedence over competitive spirit. This is one of the reasons why they only organize very few P500 and above. "When we organize P25s or P100s, people have fun playing. They play their match then they sit on the terrace to have a friendly time. That's what we like", they say.
In addition, the mentality of the players present on the P25 and P100 is "totally different", according to Renaud Murat. "The players are not just there to come and play a tournament and leave immediately. They share, they meet new people". An aspect that we find a little less in higher level competitions: "In the P500, we face real competitors, who only look at the points".
For private clubs like Béziers Padel Club, another aspect to take into account during tournaments is the prize money. "For a private club, if you don't have the required number of registrants, you find yourself giving as much as you took in". But, to try despite everything to do "player pleasure", the BPC organizes two P500 per year, always accompanied by sponsors.
The partnership with Cupra
Cupra is one of the emblematic sponsors of the padel. In Béziers Padel Club, it was quite natural that we turned to the car dealership to develop partnerships. In addition to sponsoring one of the fields, but also the P500, the Murat couple also created, in collaboration with the brand, the P250 Cupra.
"We created the Cupra Tour, a common idea between us and the Cupra sales representative from Béziers, which consists of creating a P250 every month", explains Renaud. The goal of the tournament: "accumulate as many points as possible". At the end of the year, the two players who have accumulated the most points are offered two tickets for the Barcelona Masters. The club covers the hotel and tickets and Cupra lends a car for the return trip to Spain. A real opportunity for the club thanks to "proximity to Barcelona".
For now, the Cupra Tour is only accessible for gentlemen. But from next year, the BPC wants to open the same type of competitions for women. The question right now is whether it will be the same sponsor or not.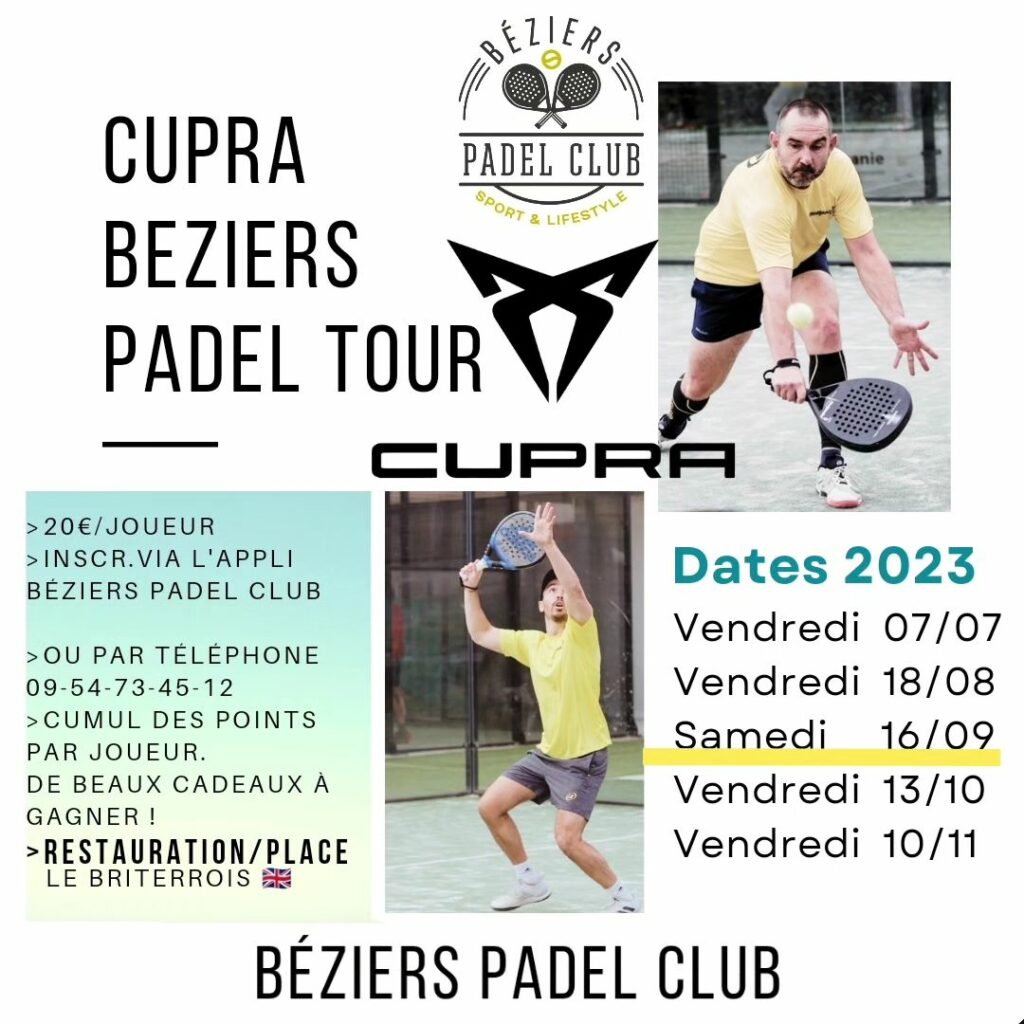 Since 2017, Béziers Padel Club continues to reinvent itself to follow the evolution of padel In France. Always looking for new ideas, Elodie, Renaud, José and Guillaume will continue to offer new activities. And above all, they will maintain this family aspect which defines this club so well.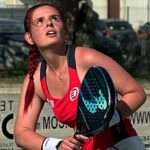 It was his brother who one day told him to accompany him on a track. padel, since then, Gwenaëlle has never left the court. Except when it comes to going to watch the broadcast of Padel Magazine, World Padel Tour… or Premier Padel…or the French Championships. In short, she is a fan of this sport.