She announced this morning on her social networks, the Spanish player Elisabet Amatriain will retire at the end of the Menorca tournament, which takes place from October 17 to 22.
In recent weeks, the 39-year-old was associated with Léa Godallier. It is therefore alongside the Frenchwoman that she will end her long career.
A rich career
Eli Amatrian's first scales are not done on a dance floor. padel, but on a tennis court. She started very young and turned to competition until she was 17. She was forced to slow down, beginning her teaching studies in physical education. It was then that friends introduced him to a brand new sport: padel. It was at this precise moment that the passion was born.
In 2007, well established in the competition, she played the qualifications of Padel Pro Tour, at the time. We will have to wait until 2012, which will be her first big year, when she has the opportunity to play with a certain Patty Llaguno. She will also become the first player to be equipped by the brand. Head, from head to toes.
From that moment on, Eli Amatriain's career took off. She has a string of tournaments, good results and victories. She remained alongside Patty Llaguno for many years, before separating in 2021, after more than nine years during which they were associated with each other.
Despite everything, Eli will have a bad time, doubt will creep in, so much so that she will have to call on a professional. Far from giving up, the warrior continues the competition, while starting her post-career reconversion.
Rain of reactions
Since she announced his withdrawal on his Instagram, earlier in the morning, dozens and dozens of messages flooded under his publication. All the big names in our beautiful sport take the time to salute an immense career and an immense player, who will have left their mark.
After his separation from Patty Llaguno, Eli Amatriain changed partners a lot. Among the players with whom the Spaniard was able to play, we find in particular Ana Caterina Nogueira, Nuria Rodriguez, Carolina Navarro and of course, her most recent association: Léa Godallier.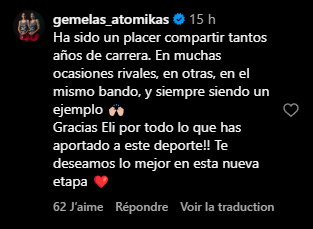 If Eli Amatriain will leave the competition in less than two weeks, this does not necessarily mean that she will move away from the world of padel. A player above all, the Spaniard had already planned everything for the end of her career. After having studied to teach, it is finally towards sports psychology that she finally turns around. She had the opportunity to follow four players, which allowed her to combine padel professional and psychology.
If, obviously, there is not much time left to see Eli Amatriain play on the slopes, seeing her on the sidelines in the near future does not seem to be excluded.
As a result of this retirement, Léa Godallier is led to look for a new partner. Unless she has already found…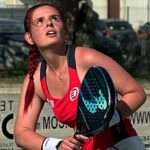 It was his brother who one day told him to accompany him on a track. padel, since then, Gwenaëlle has never left the court. Except when it comes to going to watch the broadcast of Padel Magazine, World Padel Tour… or Premier Padel…or the French Championships. In short, she is a fan of this sport.