Find the program, the results and the links to follow live the FFT Padel Tour Perpignan which takes place at the Club du Mas from May 13 to 15, 2022.
Sunday
20 p.m.: Results of the main draw of the FFT PADEL TOUR PERPIGNAN
19:30 p.m.: Victory for Yann Auradoun and Manuel Vives
17 p.m.: Victory for Mélissa Martin and Amélie Detrivière
14:30 p.m.: Live ladies and gentlemen
Women: Ligi / Clergue vs Martin / Detriviere
Followed by gentlemen: Auradou / Vives vs Cancel / Guichard
12:30 p.m.: ladies results
9:00 a.m.: Find all the live streams from the semi-finals HERE :
Saturday
22:09 p.m.: Ladies and gentlemen classification matches
22:50 p.m.: Sunday programming
22h40: Table men semi-finals
21:30 p.m.: Semi-final ladies table
20:55 p.m.: end of the last shift
17:30 p.m. – Women's table 8th
17:27 p.m .: THE explosive match
Explosive LIVE: Ginier / Pothier vs Ligi / Clergue
15:46 p.m.: LIVE field 9 and 10
10 a.m.: Live performances from courts 8, 9 (central) and 10
9 a.m. – Program and tables
---
FRIDAY
22 hours : programming and final tables
20 p.m.: ladies and gents results
Find the results in real time of the qualifications of the FFT Padel Tour.
To follow the first match of Pool B live: Teo Zapata / Cyril Hanouna vs Franck Puech / Schugar Puchalvert. We will put the table online very soon. Other matches will be broadcast live from 16:30 p.m.
Here is the general schedule, knowing that the qualifications start today at 13 p.m.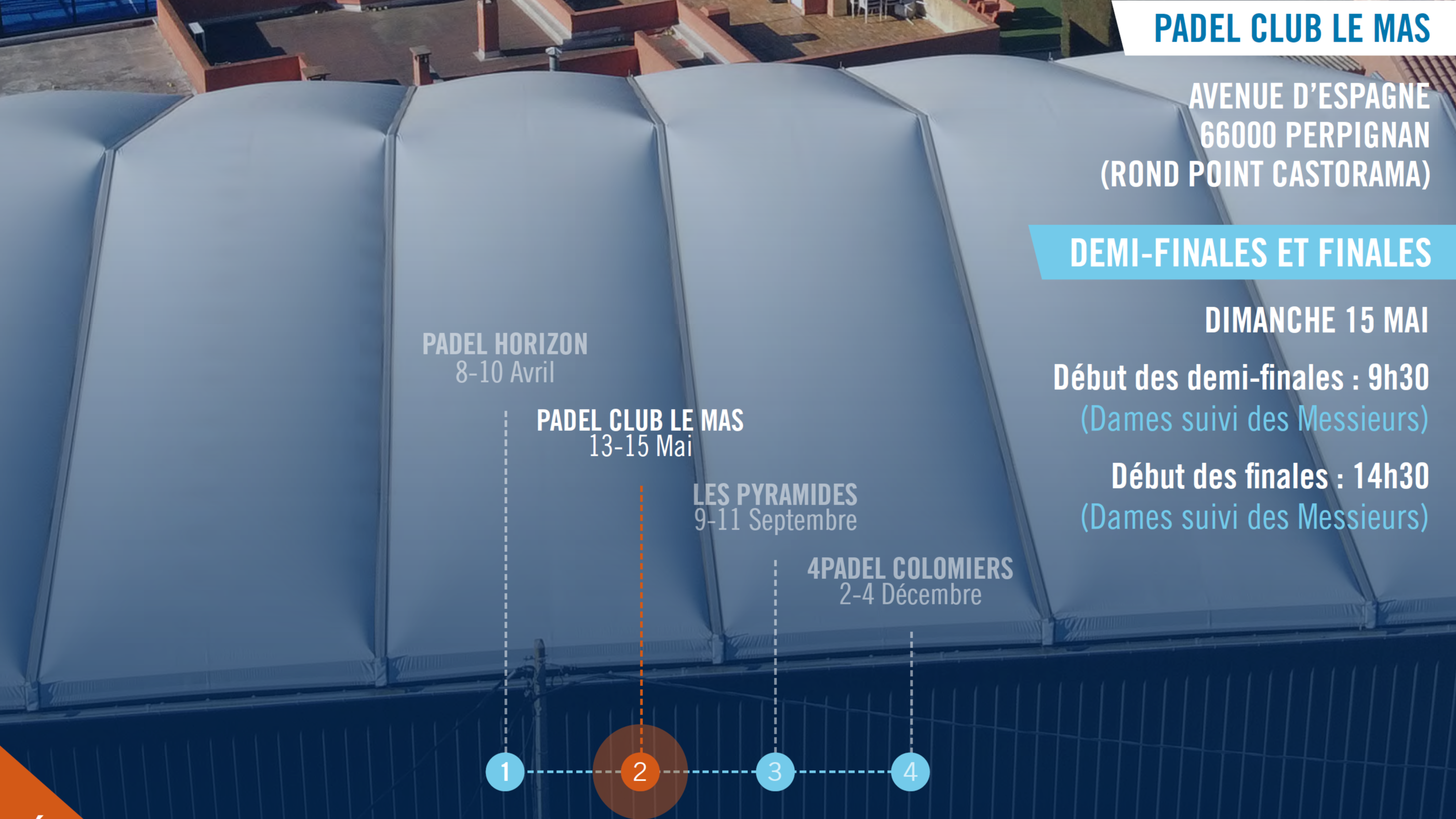 Find the list registered with the pairs who will play the qualifications which start at 13 p.m. this Friday and those who are admitted directly into the main draw.
FFT Padel Tour P2000 Perpignan: discover the registrants
12 May 2022
Second stage of FFT Padel Tour after that of Padel Horizon. Direction the Club du Mas in Perpignan.