There will be no final Thomas Vanbauce and Dorian de Meyer, who bowed in the semi-final of the FIP Promotion Padel Asia. The French pair did not come far from qualifying against the 2nd seed, Thijs Roper (387) and Samuel Jones (171), after winning the first set then a break in the second and third sets.
A "frustrating defeat" declared Thomas Vanbauce on his networks, while the French had managed to win in a tight first set, 7/6. And even if they are the first to break in the next two sets, they end up being caught each time and lose 6 / 3 6 / 4.
Next deadline for Thomas Vanbauce and Dorian de Meyer, the FIP Rise Bourg-en-Bresse, from November 21 to 25 :
You will be able to follow the Bourg-en-Bresse FIP in full and live on the channel Padel MagTV :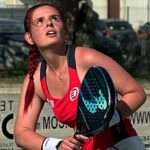 It was his brother who one day told him to accompany him on a track. padel, since then, Gwenaëlle has never left the court. Except when it comes to going to watch the broadcast of Padel Magazine, World Padel Tour… or Premier Padel…or the French Championships. In short, she is a fan of this sport.