France and Belgium will be highly represented during the FIP Rise Antalya in Turkey with no less than five French players and two Belgian players. Among these teams, we will find:
Maxime Deloyer BEL – Jérémy Scatena FRA (TS2)
Ferran Insa Sotillo ESP – Thomas Leygue FRA (TS3)
Dylan Guichard FRA – Bastien Blanqué FRA (TS5)
Clément Geens BEL – Jérôme Inzerillo FRA (TS6)
FIP Rise Antalya will start on Wednesday 25 October, with the qualifications and will end this Sunday 29 October. There will be a real challenge to play in this FIP for our Frenchies and our Belgian neighbors since they will all be seeded in Turkey.
Remember that the last Frenchman to have won a FIP Rise is Dylan Guichard, present in Antalya alongside Bastien Blanqué. It was last September, with Jeremy Scatena who will be associated with the Belgian Maxime Deloyer in Türkiye.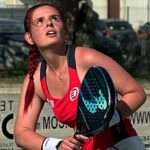 It was his brother who one day told him to accompany him on a track. padel, since then, Gwenaëlle has never left the court. Except when it comes to going to watch the broadcast of Padel Magazine, World Padel Tour… or Premier Padel…or the French Championships. In short, she is a fan of this sport.