We had to fight in this quarter-final to Thomas Leygue, and his partner Ferran Insa, to get a ticket for the last four at FIP ​​Star Puebla. The Franco-Spanish pair won in three sets, 6/4 4/6 6/1 against Miguel Oliveira (342) et Maximiliano Cejas (297)
Finally, the number 4 seed managed to get out of this trap match and will be opposed to Ricardo Martinez (96) et Gerard Arnaldos Serrano (209)
It is the end, however, for Bastien Blanqué et Dylan Guichard. The French pair came up against very good Christian Medina Murphy (135) et Belar Vera Lopez (130) They had already had to work hard in this tournament to qualify for the eighth. This time, it doesn't work for the French.
Thomas Leygue and Ferran Insa are therefore the last French hopes in this FIP Star Puebla. Will they be able to win the title a week after their coronation in Turkey? In any case, there is a chance to play in this tournament for the Franco-Spanish pair in this tournament, after the withdrawal of the first two seeds.
The semi-final of Thomas Leygue and Ferran Insa will be followed, from 17 p.m. (French time), on the FIP Youtube channel.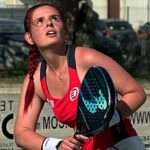 It was his brother who one day told him to accompany him on a track. padel, since then, Gwenaëlle has never left the court. Except when it comes to going to watch the broadcast of Padel Magazine, World Padel Tour… or Premier Padel…or the French Championships. In short, she is a fan of this sport.