Thomas Leygue and Bastien Blanqué are preparing to play once again the finals of the French Championships, this time against Jérémy Scatena and Dylan Guichard. An unprecedented finale.
Blanqué / Leygue: Undisputed favorites?
The semi-final between Blanqué / Leygue and Maigret / Tison was expected to be a final before the letter according to the pre-match predictions, and it truly met expectations.
The outsiders, Adrien Maigret and the French number one, Benjamin Tison, are the first to put pressure on the reigning champions. In great shape, they jostled Blanqué and Leygue, the latter seeming to be in difficulty, not showing his best game.
In the diagonal of Bastien Blanqué, Adrien Maigret, very proactive, proves to be very offensive. Benjamin Tison, true to himself, creates some decisive strollers. Logically, Tison / Maigret wins the first set 7/5.
At the start of the second set, a decisive point won by Blanqué / Leygue radically changed the dynamic of the match. At 1/0 15/40, the reigning champions won a crucial point which catalyzed the game of Thomas Leygue. From then on, Blanqué / Leygue monopolized the game and dominated Tison / Maigret who suffered, conceding a 6/2 6/1 in barely an hour.
When Blanqué / Leygue play at this level, no one in France seems to be able to match them.
Scatena / Guichard: A complete meeting
Following some turbulence in the quarter-finals and a narrow victory against Vanbance / De Meyer, the alliance between Dylan Guichard and Jérémy Scatena found its rhythm, putting together a series of choice performances. Manuel Vives and Julien Seurin were the next to hope to continue the adventure. On paper, the match promised to be balanced, with three of the players from the "The Daltons" team having migrated together to Barcelona to attempt a professional career in padel.
However, from the start of the match, the Vives / Seurin pair struggled to match the sustained and offensive pace imposed by Scatena / Guichard. The game finds its balance in the second set, which ends in a tie-break. More consistent throughout the match, Scatena / Guichard thus won their place in the final of the French Championships, where they will face Blanqué / Leygue.
The men's final will take place just after the women's final which starts at 11 a.m.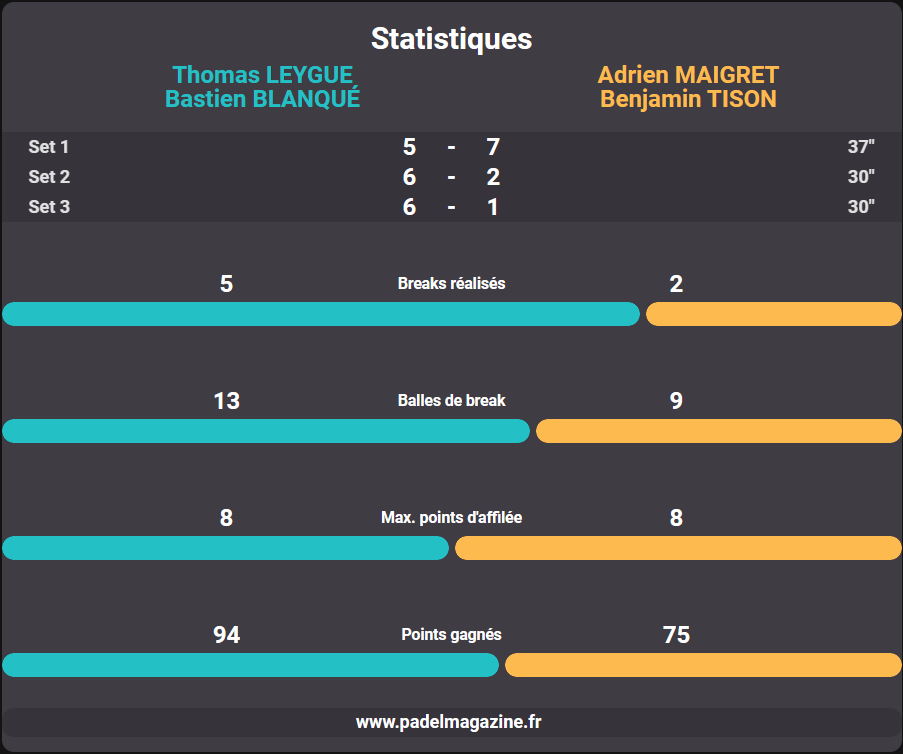 Franck Binisti discovers the padel at the Club des Pyramides in 2009 in the Paris region. Since padel is part of his life. You often see him touring France going to cover the major events of padel French.