A few weeks ago, you were able to follow the first men's P1000 in Isère, at Grenoble Tennis Padel with a victory for Ayuso/Raichman. Next weekend, from 24th and the 26th of November, Grenoble Tennis Padel will be the scene of the department's first women's P1000.
An event that was made possible thanks to the support of its partner Vision d'Ailleurs. The P1000 will take place on the three indoor tracks which benefit from optimal playing conditions: 12 meters in height and exits authorized on the three grounds.
Provisional program :
Friday November 24:
Qualifications (if necessary and depending on the number of pairs)
Saturday November 25:
8:30 a.m.: start of the final draw
20 p.m.: evening at the club (information to come)
Sunday, November 26:
9 a.m.: end of ranking matches from 5 to 8
10:30 a.m.: 1/2 finals
14:30 p.m.: final
Registrations close this Friday, November 17 at 23:59 p.m. (to register: loic.revol@grenoblepadel.Fr).
You can follow this Open Grenoble Padel P1000 ladies Visions d'Ailleurs Optician on Padel MagTV, from the 1/4 finals: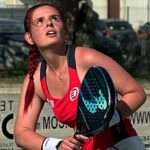 It was his brother who one day told him to accompany him on a track. padel, since then, Gwenaëlle has never left the court. Except when it comes to going to watch the broadcast of Padel Magazine, World Padel Tour… or Premier Padel…or the French Championships. In short, she is a fan of this sport.