Exclusive interview with Johan Bergeron, recently become quadruple champion of France.
"I always ignore the previous years"
Padel Magazine : How does it feel to go down in the history of padel French ? 4 French championships, do you realize that?
Johan Bergeron: "Yes and no, I realize that because I am told. Each year the championships are different, and always more complicated. I always ignore the previous years, but it sure gives me confidence in my preparation and in my management of the tournament. "
Padel Magazine : What was the most complicated match among the 4 finals played?
Johan Bergeron: "Both against Benjamin Tison and Adrien Maigret, because it has always been a bit hot matches. This was played out in the preparation of the match, the first games ...
After that, this year was my first victory on the left. So it was different. I had less experience on that side, but since I had Ben by my side, whom I consider to be the best French player on the right, it gave me confidence and he was able to help me when things were less going. good. I think this year's final was the most difficult. "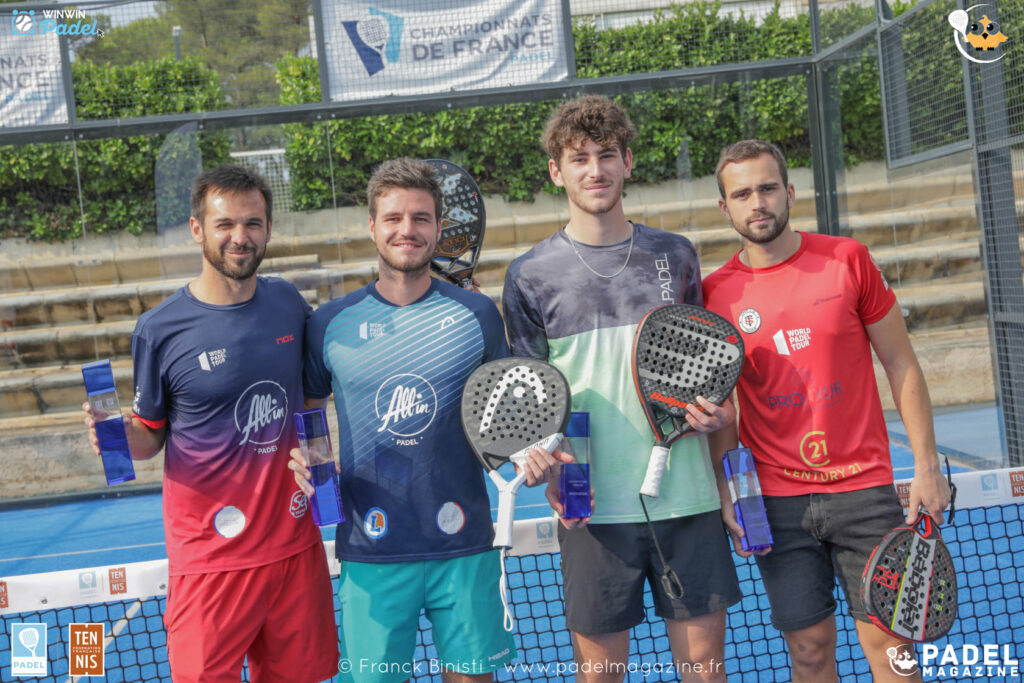 Padel Magazine : Coming back to Thomas Leygue, we had feedback that he had changed physically and in his game in the space of a few weeks, what do you think?
Johan Bergeron: "It's true that he has gained more confidence in his game, and as a result Bastien has even more confidence in Thomas. Both play very well and doubt a lot less, letting go more and taking risks. It worked for him and I think it will serve him well for the following weeks. "
A Gold FIP in St-Tropez
Padel Magazine : Now you are at All In, we should see you soon in international tournaments, FIP in particular. We also heard about a tournament organized in the south of France, can you tell us about it?
Johan Bergeron: "We have the ambition to do big national and international events. The one in Lyon is not closed even if we would like to do it, but the one that is closed is the FIP Gold in the south of France on a beautiful place (in St Tropez).
We will do everything to make it a great tournament, I think that is what is lacking in France even if there are more and more. It is up to all the players in France to develop things and promote our sport.
In Canet-en-Roussillon it was a great tournament, for the promotion of sport we could not ask for better. We have the ambition to do this in places that are visited, so we had the opportunity to have the place of the port in Saint-Tropez. It's awesome. One week before the sails of St Tropez (in September), we will be in a strong period of passage there. The objective we have is to promote sport, and I think that this place will allow it. The idea is for it to be relayed by the media and social networks, and sincerely that a television like Canal + broadcasts the competition would be the objective to be achieved. "
Fewer international circuits, more All-In
Padel Magazine : What is your program in the coming months, on the national and international circuit?
Johan Bergeron: "To be honest, no one knew except my relatives (including Ben Tison), I said that after the French championships I was going to reduce the international circuit. I did 4-5 months or I was thoroughly on all the tournaments over the ALL IN, plus the French tournaments… Every 3 days I was in different cities. It's boring and above all it limited me to develop what I wanted to do for the All In. I had prepared for the French championships because that was the goal of the year. There, from today, I will play much less in international tournaments and focus on the development of All In. Next year I will do some WPT stages, some FIP stages, why not the APT but I will select according to the calendar and the beauty of the tournament ".
The interview can be found in full here:

Passionate about football, I discovered the padel in 2019. Since then, it's been crazy love with this sport to the point of abandoning my favorite sport.