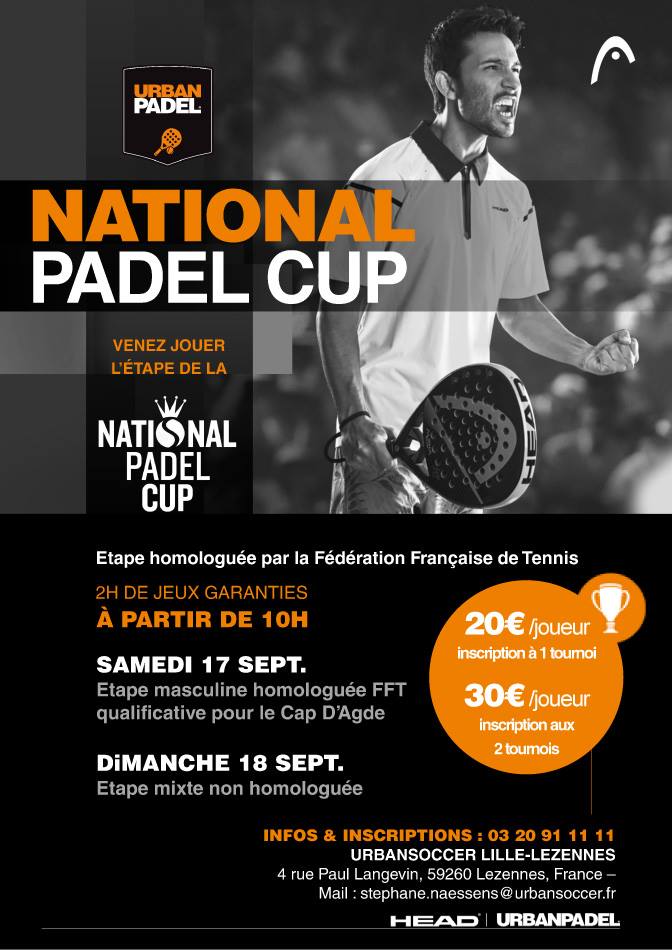 With its experience in the field of Foot5, the UrbanSoccer Lille-Lezennes center has, since January 2016, established within its complex 4 beautiful padel courts approved by the French Tennis Federation (FFT).
Eager to develop the Padel practice in the Lille area, UrbanPadel launches its first homologated tournament, the 17 September 2016 as part of the National Padel Cup stage.
This stage qualifies for the finals that will take place in Cap d'Agde.
Don't wait any longer to reserve your place at this tournament !!
Registration:
To validate your registration you must return the booking form to the following address: stephane.naessens@urbansoccer.fr or by post to: 4, rue Paul Langevin - 59260 Lezennes.
Click below for your booking voucher.
http://www.urbansoccer.fr/wp-content/uploads/2016/08/Bon-inscription-PadelCup.pdf
On your snowshoes, get set, fire, smashez !!
The UrbanPadel team from Lezennes.

Franck Binisti discovers the padel at the Pyramid Club in 2009 in the Paris region. Since then padel is part of his life. You often see him touring France by going to cover the big French paddle events.