Sunday, Lille made speak the powder. The padel is constantly evolving in Lille thanks to the work done by the two Lille clubs (Padel Attitude and Padel Sensation). Thanks to them the padel continues its ascent and the level of the players explode.
The Saleta / Tanfin pair wins in extremis.
In this tournament, the level was particularly high. Each hen was complicated. That's why in the final, the players did not necessarily deliver their best game of the day. There was indeed a lot of fatigue among the finalists. On the other hand, it was necessary to have the nerves well hung. The pair Ruiz and Lepanse leaves feet to the floor, leading quite quickly 4 / 1. Loïc Lepanse is illustrated with his beautiful smashes that come out almost permanently from the field while Sebastien Ruiz takes care of the perfection of the game. The public was getting ready to warm when suddenly, the local pair began to play more vigorously…
The match is launched, there is a little more waste at Lepanse and the local pair is not praying to enter the breach. "Jo" locks her part of the court by sliding some beautiful balls in a short cross with her left hand. It's a real chase.
At 5 / 3 for the Parisian pair, the Lille have 2 balls of games to save ... And they save them. Saleta-Tanfin have more than one boulevard to win then this great tournament Lille.
The Saleta / Tanfin pair is definitely hurting the Parisian pairs, since they also beat the Binisti-Houard pair (6 / 4) in the semi-finals.
Special mention to Thibaut Nollet
Thibaut Nollet is THE revelation of the tournament. Associated with Romanowski, they began to do a lot of damage in the pool matches, including inflicting an 6 / 0 in less than 15 minutes to the future semifinalist (and former finalist) Binisti / Houard tournament. And they especially managed to reach the quarterfinals by delivering a high quality match lost 7 / 6 face a pair who used to truster the last square: Fievet / Destombes.
If we knew Romanowski for his level of play, Thibaut Nollet is the player who surprised the most by his regularity and his little game terribly effective. He plays his role as a right-wing player perfectly and he has never failed.
In 6 months, it has gone from the relatively new player to dangerous.
More generally, Pascal Duhamel has again managed his tournament with a beautiful organization and an atmosphere always so nice. Congratulations to Padel Attitude.
Final table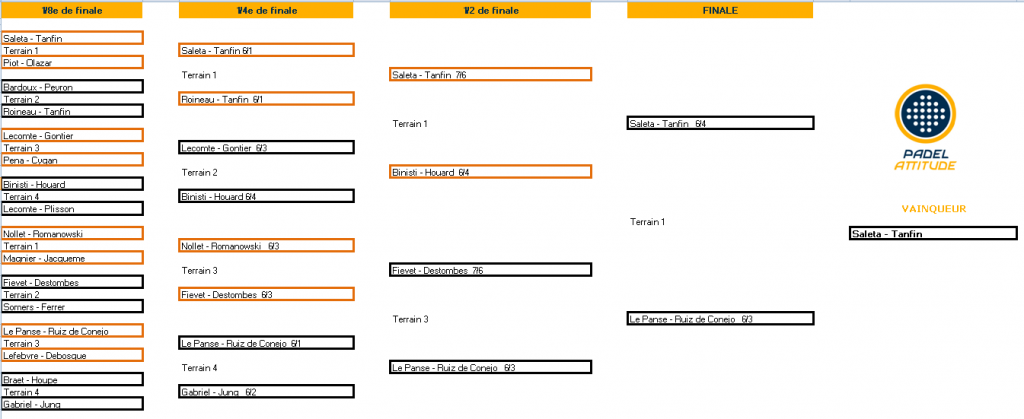 Franck Binisti - Padel Magazine

Franck Binisti discovers the padel at the Pyramid Club in 2009 in the Paris region. Since then padel is part of his life. You often see him touring France by going to cover the big French paddle events.