All French female hopes once again rest on the pair Psonka/Bahurel in this meeting against Portugal.
Hostilities started at 8:30 a.m. in Paraguay with the meeting between the U14s. Among the tricolors, it's the pair Bekhedda/André who was starting. The march was very high for our French women who suffered a violent 6/0 6/0 against the Portuguese.
Kimy Barla and Lou Lambert-Agosti They continue to impress in this World Cup. In 8 matches, the two U16s are in their 8th victory. This time, they win 6/3 6/4. A very good match which bodes well for their semi-final this evening, in the Open.
Once again, so it's on the pair Psonka/Bahurel let all hopes rest. You can follow the meeting on Padel Magazine TV: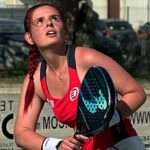 It was his brother who one day told him to accompany him on a track. padel, since then, Gwenaëlle has never left the court. Except when it comes to going to watch the broadcast of Padel Magazine, World Padel Tour… or Premier Padel…or the French Championships. In short, she is a fan of this sport.