New day of competition on the Paraguay side for our young French players who are going to start their 4th tournament day and play their quarter-finals.
As explained in a previous article, the girls finish second in their group, behind Italy, after two defeats and one victory facing our transalpine neighbors. Today, they will continue the adventure against the Swedish team, leading in pool B.
The start of the confrontation is scheduled for 9 a.m. (13 p.m. in France). To follow the meeting live:
Among boys, the Blueberries also met the Italian team and won for first place in the group.
Today, they will face, like the French, the Swedish team, which finished 2th from pool B.
Start of the meeting scheduled for 17 p.m. (21 p.m. in France).
Regarding the Open, we still have two tricolor pairs in the running. Quentin Bernard and Johan Peloux face the Spaniards Fernandez and Garcia at 13:30 p.m. French time, while Kimy Barla and Lou Lambert – Agosti face the Mexicans Muñoz and Montoya this evening at 22:30 p.m. French time.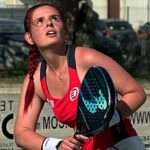 It was his brother who one day told him to accompany him on a track. padel, since then, Gwenaëlle has never left the court. Except when it comes to going to watch the broadcast of Padel Magazine, World Padel Tour… or Premier Padel…or the French Championships. In short, she is a fan of this sport.