They are undoubtedly the queens of this end of season: Jessica Ginier-Barbier and Lucile Pothier won during the P1500 PadelShot of Saint-Etienne. Two weeks later their title at the P1500 All In Villefranche, the Ginier/Pothier pair reissues facing Tiffany Phaysouphanh and Fiona Ligi (TS3).
This concludes this 100% female week in Saint-Etienne. After welcoming Marianne Vandaele and her initiative to develop the padel women's, the last P1500 Ladies of the year took place this weekend. This was the club's first major event since its expansion. 8-track. And in this tournament, the hierarchy was completely respected since it was the number 1 seed who won.
In his final against Phaysouphanh/Ligi, the vice-champions of France will only have had to unfold to easily get rid of the number 3 seed. In just two sets, they went for the coronation in the Loire department. Final score, 6/3 7/5.
Next deadline now, P2000 FFT Padel Tour 4Padel Strasbourg which will take place from 17th and the 19th of November prochain.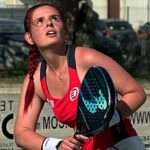 It was his brother who one day told him to accompany him on a track. padel, since then, Gwenaëlle has never left the court. Except when it comes to going to watch the broadcast of Padel Magazine, World Padel Tour… or Premier Padel…or the French Championships. In short, she is a fan of this sport.