It has now been more than two years since the founders of Padel shot, Nicolas Bonnet, Gilles Boutet and Jérôme Doligé, are working on their concept. Their first center today opens its doors in Caen, inaugurating a network of 15 centers across France. To understand the ambition of these three enthusiasts, we have chosen to offer you a cross-talk.
You have all been successful in the corporate world. Why did you decide to take risks again in a project like Padel Shot?
Nicolas Bonnet : Padel is a new sport, in the making, which brings together so many qualities, so we quickly fell in love with it. Very naturally, with my two friends, we thought that in addition to being regular practitioners, we could become actors of the practice by offering efficient, welcoming and friendly centers.
Gilles Boutet : It's very simple. We have become addicted to padel, and we want to participate in its development.
Jerome Doligé : In all my entrepreneurial adventures, I have always been motivated by the idea of ​​a challenge. Padel is taking shape in France, but there is still a lot to build. We wish to participate in the development of this discipline by contributing our marketing vision, our energy and our enthusiasm.

If you had to sum it up in one word Padel Shot?
NB : I would say conviviality, because we have taken special care in conceptualizing our multi-activity centers. Our DNA remains of course padel, but not only. We will be a multi-activity center with badminton and table tennis.
GB : I would speak of performance to complete Nicolas' remarks. This is why we joined forces with Simon Boissé, 5e French player. He will be responsible for the development of the competition, the establishment of padel schools and all educational aspects. We have established with him a very specific program to attract children and women, but also to create bridges with the various activities.
JD : Friendliness / sense of service. We are a sports center for the greatest number, and more particularly for lovers, aficionados of racket sports, but we also have the will to offer new services by emphasizing the sense of hospitality and service. We want to come to Padel Shot is more than a pleasure, that we can certainly sweat, but also have a drink, have a good evening in an elegant setting, well advised by attentive teams who are also all made up of enthusiasts. This was also a criterion of choice in our recruitment.

An ambitious project therefore!

NB : Padel Shot must become a major player in the medium term in France, a brand recognized for the excellence of its customer service, its teaching team and its catering.
GB : Ambitious certainly, but the objective is not to revolutionize the padel, because it already operates efficiently with a well-established organization in tournaments and competitions, where private centers play a fundamental role alongside the FFT so that its development is assured. We are therefore part of this dynamic, but with our personal touch and an optimized quality of service.
JD : The development plan is clear. We have identified the cities that will be able to host a center Padel Shot. But we must already successfully open our first two centers, in Caen then Saint-Étienne. We have ambition, but no arrogance. We are very respectful of the private actors in place. They are often pioneers who have greatly contributed to the success of padel as we know it today.
After Caen and Saint-Éwhat will your next destination be?
NB : I do not know [laughs].
GB : I know it, but I am not allowed to say it.
JD : I call you at the end of the year to reveal it to you.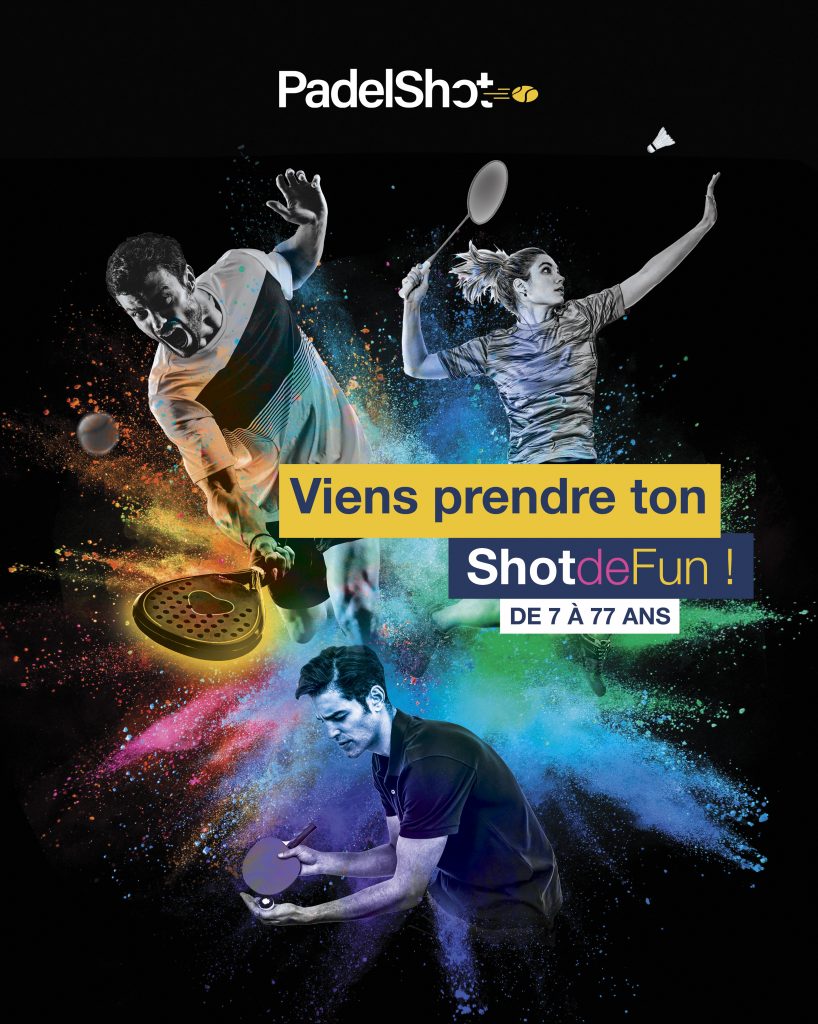 Franck Binisti discovers the padel at the Pyramid Club in 2009 in the Paris region. Since then padel is part of his life. You often see him touring France by going to cover the big French paddle events.