It's over for the Collombon/Rufo pair, exited from the Amsterdam Open by the number 4 seed, Salazar/Araujo. In a tight match, Alejandra Salazar and Sofia Araujo were able to raise their level of play at the best of times to win 7/6 6/3 in 1h35 of play.
Collombon and Rufo may have some regrets. The Franco-Spanish pair knew how to disturb the recently formed duo. Broken from the start in this match, Alix and Lorena, without being discouraged, caught up and got back on track in the second game of the match. They pushed the number 4 seed into a tie-break which they unfortunately ended up losing.
In the second set, Alix and Lorena once again offered a very good level of play, taking their opponent's serve from the start. But ultimately it was Araujo and Salazar who best managed to impose their game and who were able to win this meeting in just over an hour and a half of play. A match which, as you will see below, will have was marked by numerous break opportunities for both teams.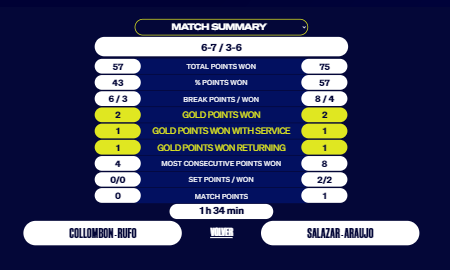 The last French hopes in this Amsterdam Open now rest on the shoulders of Benjamin Tison and his teammate Clément Geens, who will try to create the feat against Lebron and Galan.
This meeting will be followed on WPT-TV in fourth rotation of the day.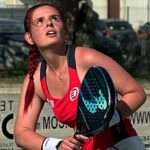 It was his brother who one day told him to accompany him on a track. padel, since then, Gwenaëlle has never left the court. Except when it comes to going to watch the broadcast of Padel Magazine, World Padel Tour… or Premier Padel…or the French Championships. In short, she is a fan of this sport.