We cannot say that the Menorca tournament was marked by a large influx of spectators throughout the week. And yet, during the final between Lebron/Galan and Coello/Tapia, El Lobo had a minor dispute with a member of the public.
On a serve from Juan LeBron, we hear this spectator repeatedly call the ball foul. Even when Juan Lebron discusses with Agustin Tapia, the incongruous repeats that the ball comes out, that it is "clearly fault".
This is too much for Juan LeBron who decides to approach the referee:
"He's been bothering me for a while, can you get him out of here?"
Finally, Lebron points to the man in question who is accompanied towards the exit. This small momentary interruption will have had no impact on the match between Lebron and Galan, who won 6/3 6/2 against Tapia/Coello.
A gritty hater when Coello and Lebrón discuss one thing:
"Mala! Que es mala! Mala clarísima!"

There is a señorial lobo before the arbitrator who has heard:
"Is it too bad for you, can you leave it?"#MenorcaOpen #Lebron #Galan #Tapia #Coello pic.twitter.com/zkWC8L5Edq

— Out Of Context Padel (@ocpadel) October 29, 2023
This is not the first time that we have witnessed this type of scene this year on the World Padel Tour. In Marbella, Paquito Navarro got angry because of a spectator and had also asked the referee to intervene.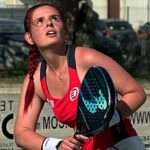 It was his brother who one day told him to accompany him on a track. padel, since then, Gwenaëlle has never left the court. Except when it comes to going to watch the broadcast of Padel Magazine, World Padel Tour… or Premier Padel…or the French Championships. In short, she is a fan of this sport.