The end of this season is approaching and if we had to take stock we could already say that 2021 has delighted us in terms of padel.
Du World Padel Tour to the APT through the worlds of Padel in Qatar or at major events in France, the show was there and we all experienced great emotions!
As French people, if there is one thing that we will remember, it is the meteoric rise of a certain Alix Collombon. Indeed, this year has been a success for her and everything suggests that the young Lyonnaise will not stop there.
The year of the firsts on the WPT
2021 is synonymous with success for Alix Collombon. Whether in France or on the WPT circuit, the Frenchwoman will have succeeded in winning and making the difference.
We will of course retain the two titles in Challenger (La Nucia and Alfafar), but also this quarter-final in Cordoba during the penultimate Open of the season!
We will not forget either the few finals played by the Collombon / Castello pair, on the Challenger of Calanda and Lerma, but also on the FIP of La Nucia and Milan!enter the TOP 20 of the WPT, a first for a tricolor.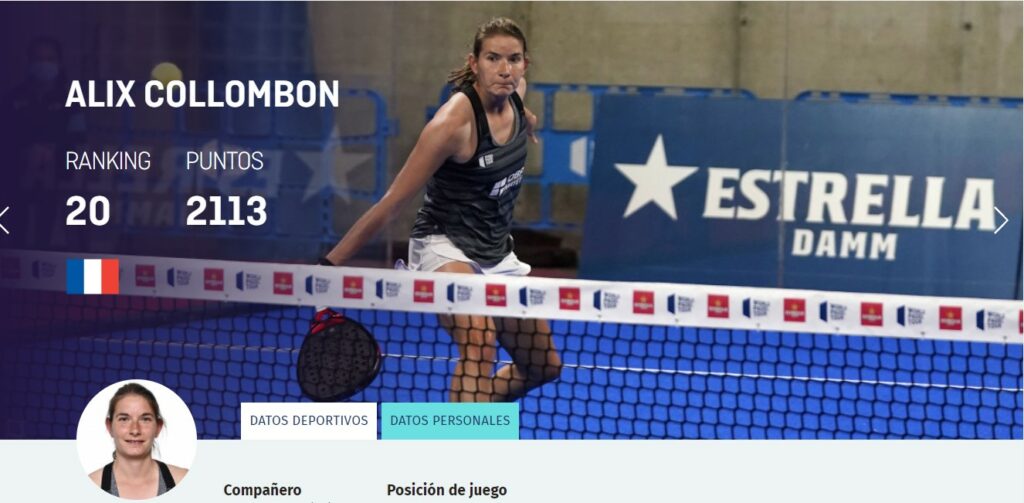 Untouchable in France
It is impossible not to take into account its leading position on the French scene.
Currently associated with Léa Godallier during their national adventures, the two young players have no competition and remain patrons of the French circuit. Together, they won everything on the national scene in 2021 with 3 P2000 on the clock plus the French championships, and not a lost set!
With the Blue, they brought back a precious place of vice-champions of Europe, followed by a place of fourth at the Worlds in Qatar.
A year full of titles
Alix this 2021 season is:
French Champion 2021
Vice European Team Champion during the XII European Championship in Marbella
Burriana FIP Star Champion
La Nucia FIP Star finalist
La Nucia Challenger Champion
Alfafar Challenger Champion
Calanda Challenger finalist
Lerma Challenger finalist
WPT Cordoba Open quarter-finalist
Milan FIP Gold Finalist
P2000 Pyramids Champion
P2000 Perpignan Champion
P2000 Toulouse Champion
If you are convinced that Alix is ​​the revelation player of this year 2021, all you have to do is vote for her HERE !

Team Padel Magazine tries to offer you since 2013 the best of padel, but also surveys, analyzes to try to understand the world of padel. From the game to the politics of our sport, Padel Magazine is at your service.