World No. 1 Ari Sanchez and Paula Josemaria won in pain against Alejandra Salazar and Paula Josemaria, with a score of 3/6 7/5 6/2, after 2 hours 40 minutes of play. was marked by the large number of service games lost by both teams.
Before this semi-final, Sanchez and Josemaria had only given up ten games in three matches, but today they encountered a lot of difficulties against a pair against whom they had never played. The queens of the circuit were even two points from defeat in the second set, but they held on and were able to reverse a situation that seemed to be going badly.
Fanfare debut for Salazar and Araujo
In the first set, the first break came from Salazar / Araujo, who surprised Ariana Sanchez on her serve. The Spanish-Portuguese pair then confirmed their lead to lead 4/1, with a whopping 61% of the points won during the first five games.
In the sixth game, it was Paula Josemaria's turn to defend a 5/1 ball on her serve: she and Ari Sanchez managed to do so by taking advantage of a volley that escaped Sofia Araujo and headed towards the grid. But while we believe they are weakened, the world n°1s step up their game and recover their late service to the detriment of Sofia Araujo.
However, from the next game, Ari Sanchez was again in great difficulty on his serve. Sofia Araujo, the least seasoned of the four players at this level, misses her return on the first break point, but Ari Sanchez then commits several errors with a smash which costs her her entry.
In the next game, despite good resistance from n°1, Ale Salazar did not hold back to win his serve and conclude the first set with a score of 6/3. In this set of almost an hour, the outsiders will have scored 54% of the points and made three breaks, while giving up their faceoff twice.
Ariana Sanchez struggling
Au 4e game of the second set, Sofia Araujo is trailing 0-30, but comes back to level thanks to mistakes from her opponents, notably Ari, who is definitely struggling today.
Almost all the games are very addictive. Josemaria still had to defend a break point at the expense of Araujo, who was surprised by a rebound in the corner of the windows. But on the next one, with courage, Salazar and Araujo manage to push Josemaria into a mistake and take the lead in this set (3/2, service to follow).
But immediately, the Sanchez / Josemaria pair increased their pressure and took advantage of big mistakes from Ale Salazar to return to 3/3, with authority. Exchange of bad practices, Ari Sanchez in turn commits new big mistakes and offers his service game to the number 4 seed.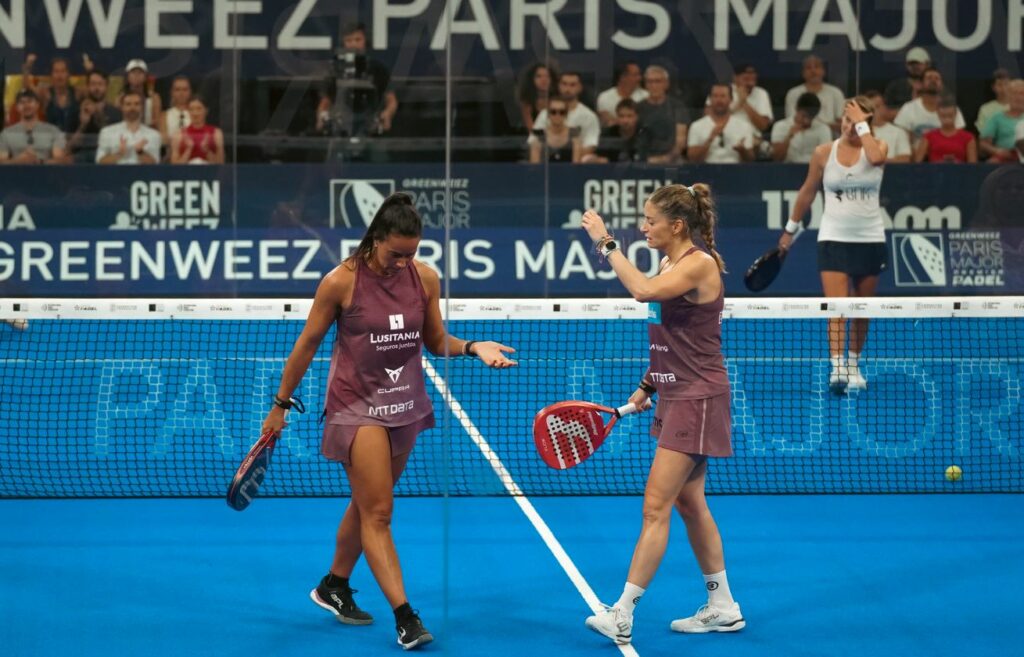 Like yesterday during the quarter-final lost by Collombon / Rufo (11 breaks in total, out of 21 games), the four players have great difficulty holding their shots, as if the service was not an advantage in the game. padel. Today, after 16 games played, 8 ended in breaks.
The following game confirms this unwritten "rule": Sofia Araujo, hit squarely in the chest by a smash from Josemaria, gives up on 4e service game of his team, the total of breaks increasing to 9.
Unusual fouls
The two pairs are decidedly feverish, with more unusual mistakes on both sides in the following game, where Paula gives up her serve, on 10e break from this part with a rather disappointing level of play.
Will Ale Salazar share her experience to conclude on her play?
Not sure, seeing the start of the game where she was led 15-30 then 30-40, after a last-minute defense from Josemaria who rushed into a half of the court left empty by the Spaniard. A disagreement later and the Sanchez/Josemaria pair equalize at 5/5.
Au 11e game of this set, an "event" occurs: one of the players, in this case Sanchez, keeps her commitment, allowing the "queens of the circuit" to lead 6/5 and put pressure on their opponents.
Sofia Araujo, trailing 0-30 on her serve, returned to level but was then deceived by a ball which remained stuck to the glass then a smash into Ari's feet which cost the outsiders the second set.
The count of breaks now stands at 12 games out of 21 played, with a ratio of 7/12 in this second set.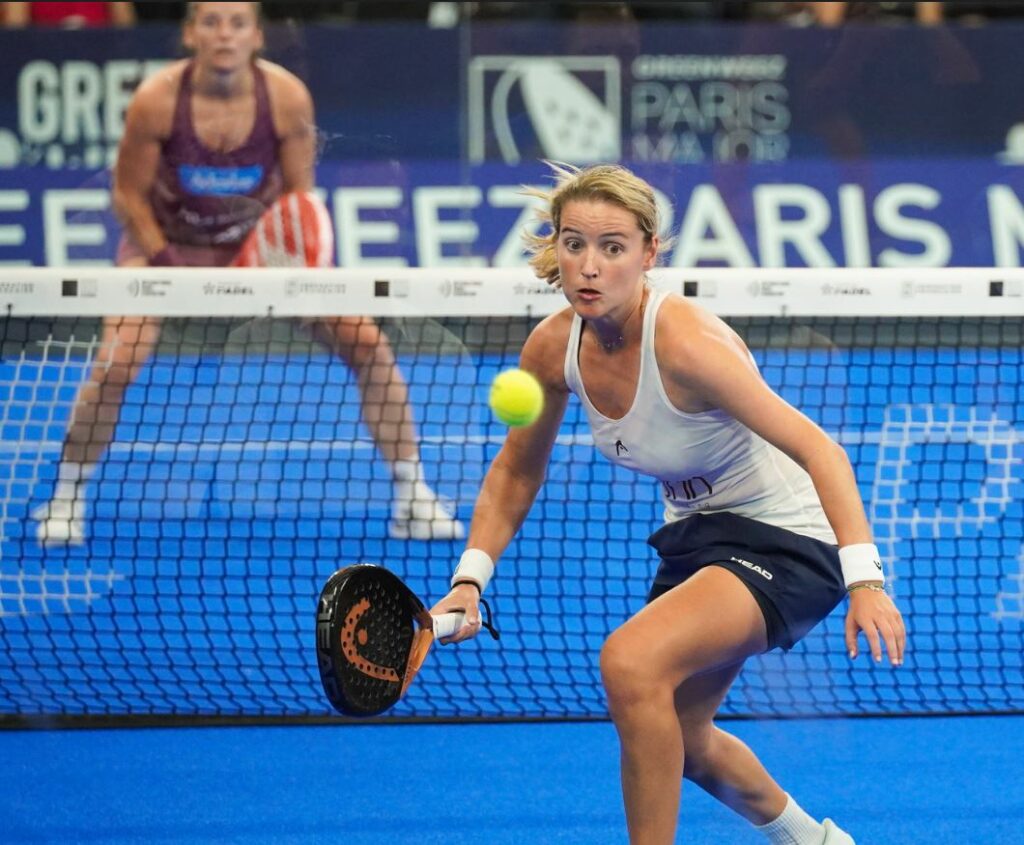 Tighten the bolts
Everything then suggests that Salazar and Araujo missed their chance and that the Sanchez / Josemaria pair will tighten things up in the third set. The next two plays confirm it: Josemaria holds her face-off then she and Ari make the break on Salazar's serve (2/0).
On the side of the Hispano-Portuguese pair, we often see Sofia Araujo coming behind her partner's back to play a bandeja or an vibora, before Salazar shifts to his left and plays the ball under Sofia's nose. A lack of communication which betrays the lack of automatisms of this newly formed pair, where the player on the right takes up more space than in the majority of teams.
In the third game, instead of driving home the point, the Sanchez / Josemaria pair miss several 3/0 balls and Ari concedes yet another break (2/1). Revived, the Salazar / Araujo pair took the opportunity to equalize at 2/2.
Even if Ale Salazar tries to take up space, the majority of balls are played on Sofia Araujo: this is obviously the strategy of the n°1s, who want to crack the supposedly most crumbly player. But on his serve, it is indeed Salazar who, shifting too far to his left, opens a gap in his defense, into which Paula slips a winning backhand. A volley from Ale into the net later and it's another break for the favorites (4/2).
Sanchez and Josemaria effectively tightened the screws and broke away with authority 5 games to 2, before concluding with a final break – the 16th of the match in 29 games – after the second match point.
A logical qualification for the N°1s, who were however shaken up for the first time in this tournament.
Read here the challenges of the other semi-finals of the day:
After 40 years of tennis, Jérôme falls into the pot of padel in 2018. Since then, he thinks about it every morning while shaving… but never shaves pala in hand! Journalist in Alsace, he has no other ambition than to share his passion with you, whether you speak French, Italian, Spanish or English.