After Robert Lewandowski, FC Barcelona player and Rafael Nadal, the king of Roland-Garros, it is the turn ofAndy Murray, English tennis star and Olympic champion to join the dance.
Andy Murray has become a real spokesperson for padel worldwide. It is therefore almost normal that he is part of the competition which will take place at the beginning of next year.
We remind you, theHexagon Cup, it's a tournament of padel with like prize money, the tidy sum of one million euros. Six teams made up of world stars will compete on the slopes of Madrid.
We already know that Paquito Navarro et Alejandra Salazar will be there. And now we know the identities of three of the six teams who will face each other in Madrid.
We may know a little more about the names of the future teams in the coming days.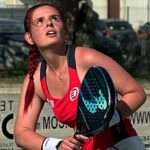 It was his brother who one day told him to accompany him on a track. padel, since then, Gwenaëlle has never left the court. Except when it comes to going to watch the broadcast of Padel Magazine, World Padel Tour… or Premier Padel…or the French Championships. In short, she is a fan of this sport.