Decathlon offers several ranges of balls including the Kuikma. Balls that compete with the quality ball market in the padel world.
Kuikma, we are all aware, is the padel part of Decathlon. Kuikma offers of course palas which are now well known to the general public, but also balls. Whether you are an occasional, confirmed player, or even to complete your training caddy, Kuikma will satisfy you.
A ball for padel players who wish to practice occasionally with an intermediate ball. Made with a mixture of natural and artificial felt, this ball will be perfect for spending a pleasant moment with friends or family who are not looking for performance. Long live bullets.
Price of the box: 3€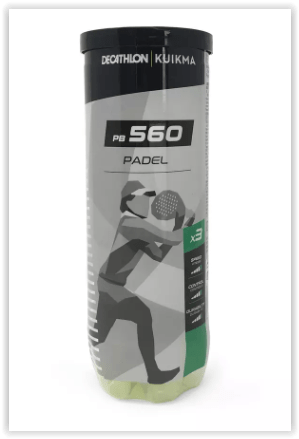 S for Speed, this ball is designed for advanced padel players. A long-lived, live ball made from dense rubber that will resist violent acceleration. A ball for those who like to hit hard and get the balls out of the field. In addition to using them during matches, these balls are perfect for completing your training caddy. Frank rebound and slow pressure loss.
Price of the box: 4€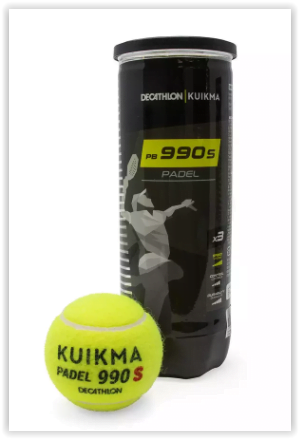 This time the C, for Control. We go from a composition with 45% synthetic felt for the S to more than 70% for the C. This difference makes it possible to have a less lively ball for more control. Always aimed at advanced players, this ball allows you to have a slower game.
Price of the box: 4€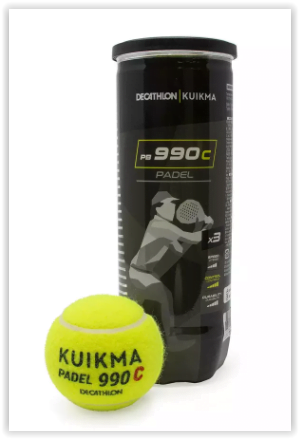 If you use the 2 PB 990 balls, the S and the C, you will notice a big difference. Kuikma has also created these two references so that you can have the same sensations whether you play by the sea or in the mountains, in summer or in winter. The livelier S will be perfect in slow conditions like the seaside or in areas with high humidity (winter). The C, on the contrary, will be more manageable during fast conditions, heat or mountain.
After that, you are free to use them as you see fit, it all depends on your feeling on the track.

Julien Bondia is a padel teacher in Tenerife. He is the founder of AvantagePadel.net, a software very appreciated by clubs and padel players. Columnist and advisor, he helps you play better through his many padel tutorials.