We told you about it, here we are: the P1000 of La Pommeraie, which will inaugurate the three new tracks of padel near Caen, starts tomorrow.
This tournament promises great performances in perspective with many players from the Top100 who will find themselves on the slopes of Normandy.
The big favorites: the number 1 seed, Guichard/Forcin, who will have to be wary of the other pairs who want to snatch victory from him. And we will also have to keep an eye on the Bergeron/Hanouna pair, seeded n°5. The host, always in search of the French Top100, hopes to be able to stock up on points.
Find the registrants below:
Starting tomorrow, the first qualifying matches will take place on the slopes. Four teams will be able to hope to join the final table, which will begin on Saturday.
If you don't have the opportunity to travel to Caen, but you still want to follow the P1000, don't miss any of the matches on Padel Mag TV, from 1/4 to the final: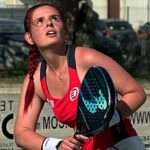 It was his brother who one day told him to accompany him on a track. padel, since then, Gwenaëlle has never left the court. Except when it comes to going to watch the broadcast of Padel Magazine, World Padel Tour… or Premier Padel…or the French Championships. In short, she is a fan of this sport.