We've already talked to you about it, the group 4Padel arrives in Strasbourg. With its club 100% dedicated to padel, comprising 14 tracks, including 12 indoors, it becomes one of the largest complexes in the northern half of France.
The leader in the practice of padel in France now has 120 slopes throughout France, spread across 20 clubs. The 4Padel of Strasbourg becomes the largest in the network in terms of capacity, and number 3 of the biggest clubs in France.
Far from stopping there, the LE FIVE group brand aims to reach "200 slopes in 2025" as underlined by Guillaume Debelmas, co-founder of 4PADEL.
In order to properly inaugurate its slopes, the complex will host the last P2000 of the year 2023, from November 17 to 19.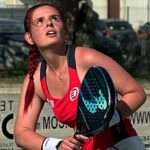 It was his brother who one day told him to accompany him on a track. padel, since then, Gwenaëlle has never left the court. Except when it comes to going to watch the broadcast of Padel Magazine, World Padel Tour… or Premier Padel…or the French Championships. In short, she is a fan of this sport.