Le padel continues its expansion across the Atlantic. This time, it's happening in Toronto, with the opening of the first club padel : the T10 padel. An exclusively indoor club, equipped with four brand new tracks, guaranteeing an optimal playing experience.
The architect of this project is none other than Sebastian Giovinco. This former Italian football international has chosen to invest in this growing sport. It thus joins the ranks of public figures seduced by the craze for this sport. "The padel is one of the most exciting and friendly sports in the world," he says.
Former professional footballer, Sebastian Giovinco, is supported by Marco Massarotto, co-founder of the club and also president.
With this new infrastructure, Sebastian Giovinco and Marco Massarotto aim to popularize the padel in northern Canada. "From beginners seeking guidance to seasoned professionals seeking to perfect their skills, everyone now has a place to enjoy the pleasure of playing, whether in winter or summer, without interruption or inconvenience," enthuses President Massarotto.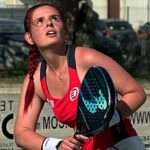 It was his brother who one day told him to accompany him on a track. padel, since then, Gwenaëlle has never left the court. Except when it comes to going to watch the broadcast of Padel Magazine, World Padel Tour… or Premier Padel…or the French Championships. In short, she is a fan of this sport.