We are already at the semi-finals of the last two P1500 Men and Women of this 2023 season and a beautiful spectacle awaits us today. You were able to follow yesterday live matches at Esprit Padel Lyon, with a few surprises.
A big surprise also at PadelShot Saint-Etienne with the elimination of the number 4 seed Bahurel/Martin, exit by Bergaud/Casalli De Lima.
A Spirit Padel, you will find in the semi-final:
Theard/Pech against Authier/Vincent.
Raichman/Joris against Ayuso/Le Panse.
A PadelShot Saint-Etienne, the half-time posters are:
Dardaine/Soubrié against Ginier-Barbier/Pothier.
Phaysouphanh/Ligi against Bergaud/Casalli De Lima.
You can follow the Theard/Pech semi-final against Authier/Vincent on Padel MagTV, as well as the Dardaire/Soubrié – Ginier-Barbier/Pothier semi-final of the P1500 PadelShot Saint-Etienne:
To follow the other semi-final of the P1500 Esprit Padel, opposing the pair Raichman/Joris in Ayuso/Le Panse, go to the channel Twitch Spirit Padel !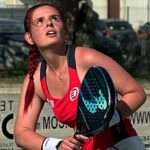 It was his brother who one day told him to accompany him on a track. padel, since then, Gwenaëlle has never left the court. Except when it comes to going to watch the broadcast of Padel Magazine, World Padel Tour… or Premier Padel…or the French Championships. In short, she is a fan of this sport.