On the sidelines of the world team championships, the Paraguay Open allowed the French junior team to return with a nice bronze medal. The two tricolors lost in the semi-finals of the Open facing the new world vice-champions Jana Montes Cabruja and Martina Calvo.
A great result for the two French women, who surprised with their level of play in these world championships. Out of 9 matches, 8 victories for Kimy and Lou who won all their matches as a team. If they did not play the small final, sharing the medal with Daniela Carmo and Constança Vieira Leitão, this medal is the crowning achievement of a whole week of hard work for the two French women.
As for the French team, we cannot deny it, she had a very good run in this championship "When we see the teams in front of us, we can only be happy with the ranking", Christian Collange told us.
Another big congratulations to our two teams and to all the pairs involved in this Open!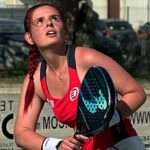 It was his brother who one day told him to accompany him on a track. padel, since then, Gwenaëlle has never left the court. Except when it comes to going to watch the broadcast of Padel Magazine, World Padel Tour… or Premier Padel…or the French Championships. In short, she is a fan of this sport.