They are part of shoe ranges from the Nox brand this year: the ML10 Hexa were specially selected by Miguel Lamperti.
The exclusivity of these shoes lies in the fact that they have been clinically approved by Marta Rueda, podiatrist at the Martín Rueda Foot Study Center and consultant at the Sant Cugat High Performance Sports Center. They are also laboratory certified by the INESCOP Shoe Technology Center in Alicante, Spain. In short: they take care of the health of your feet.
Technology AGG (Advanced Gravity Geometry) offers an optimized "drop" (difference in height between the heel and the toe), facilitating the player's waiting posture and the initiation of his run. Thanks to technology Lateral Support, these shoes also provide better stability by offering an increased contact surface of the sole with the ground. They also benefit from maximum cushioning and optimal grip on the ground.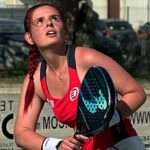 It was his brother who one day told him to accompany him on a track. padel, since then, Gwenaëlle has never left the court. Except when it comes to going to watch the broadcast of Padel Magazine, World Padel Tour… or Premier Padel…or the French Championships. In short, she is a fan of this sport.