The Grenoble tournament is in full swing and the first matches have already revealed some surprises. The number 2 seed, Ayuso/Raichman, will be opposed to the little surprise of the day, Cesaratto and Perrin, Van de Walle/Poirieux scorers in 1/8.
Find this exclusive quarter-final on Padel Magazine TV: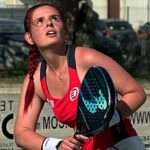 It was his brother who one day told him to accompany him on a track. padel, since then, Gwenaëlle has never left the court. Except when it comes to going to watch the broadcast of Padel Magazine, World Padel Tour… or Premier Padel…or the French Championships. In short, she is a fan of this sport.