You can be French number 1, have reached the 1/8 finals of a tournament in World Padel Tour and being out in the first round of the final table of a P1500. Benjamin Tison and Florent Thevenot were eliminated from the start in the P1500 Esprit Padel, at the end of a very close match against Lilian Fouré and Florian Hue.
For Benjamin Tison, it is, at best, a 17th place that we will have to seek in this tournament. And for his first ranking match, the French number 1 and Florent Thevenot will be opposed to Jerome Ferrandez and a certain justin lopes, former French number 1. The latter were also taken out in the first round by a qualified pair, but who we know to be dangerous, Thomas Seux (92) and Baptiste Hayet (59).
In any case, Ben Tison and Florent Thevenot take things with a smile.
You can follow the latter P1500 of the year on Padel Mag TV and on the channel Twitch Spirit Padel :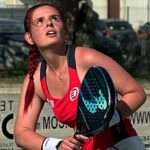 It was his brother who one day told him to accompany him on a track. padel, since then, Gwenaëlle has never left the court. Except when it comes to going to watch the broadcast of Padel Magazine, World Padel Tour… or Premier Padel…or the French Championships. In short, she is a fan of this sport.