The people of Toulouse will have shone this weekend, far from their country and the mild heat of the South of France, by offering themselves a final in the last P2000 of the year on 4Padel from Strasbourg. They imposed themselves facing the other surprise of the tournament, the Hugounenq/Cancel pair in two sets, 7/5 6/3 in just under 1h30 of match.
They had already created the exploit yesterday, by winning against the 5th seed, Le Panse/Moura (4/6, 6/2, 6/1) in the round of XNUMX. Then in the quarter-finals, by dominating the Authier/Vincent pair (TS2) in three sets (6/4, 3/6, 6/2).
False start in the first set
The Theard/Pech pair missed their start in this semi-final and, in just 15 minutes of play, found themselves trailing 4/1. For them, the explanation is as clear as rock water "we made the wrong tactic, we wanted to play too quickly". During the set, they can count on their coach Jean Dumartin, who enlightens them on their mistakes: "he tells us things and to see that we are not in the right thing".
They manage, with this tactical change, to completely reverse the trend. They offer themselves a remontada, by offering themselves four games in a row, to finally regain the lead at 5/4.
A second set like the end of the first
Finally, the tactical change holds for Benoît Theard and Thibaud Pech. The latter also adds: "we avoided Arthur a little more, who took up a lot of space in the middle behind Ludo". This time, it is the Toulouse pair who lead 4/1 in this meeting and who are getting closer little by little towards a final in this P2000 in Strasbourg.
At the end of the meeting, things were shaking a little for Benoît and Thibaud, who were in a little more difficulty. A few cramps on Thibaud Pech's side slow down the good dynamic of the pair a little. "If we didn't win the match at 5/3, I think it's over", he admits.
Finally, the set is concluded, as is the match and Thibaud Pech and Benoît Theard head towards the final.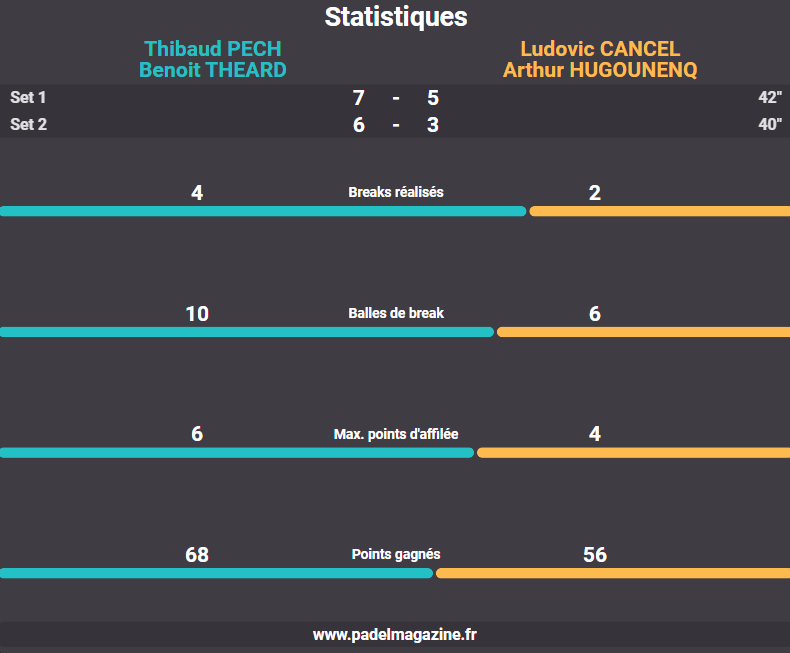 First final for the Toulouse pair, who will have a hard time facing seeded 1 Maigret/Bergeron. The match will be followed live on Padel MagTV :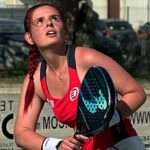 It was his brother who one day told him to accompany him on a track. padel, since then, Gwenaëlle has never left the court. Except when it comes to going to watch the broadcast of Padel Magazine, World Padel Tour… or Premier Padel…or the French Championships. In short, she is a fan of this sport.