Hostilities have started, this Friday in PadelShot of Saint-Etienne which is hosting, this weekend, the last women's P1500 of the 2023 season. On the program, 26 players in the Top 50 will be present on the slopes to try to seize the title and these precious 1.500 points for the ranking.
Since the beginning of the week, the club's objective was to introduce a female public beginning to padel. In partnership with the FFT and Marianne Vandaele, the whole week was devoted to Padel Feminine enters PadelShot Lyon and PadelShot Saint-Etienne. Since Wednesday several discovery slots have been set up and welcomed more than 120 women who were beginners and uninitiated to the practice.
"This is a real desire of all the teams PadelShot, whether in Caen, Lyon, here in Saint-Etienne but also in all our future clubs, notably in Metz and Reims which will open in the first half of 2024, to develop women's practice, and allow everyone to share good times with friends or family", declared Jérôme Doligé founder of PadelShot.
In line with this week, the P1500 will close these few 100% feminine days, with a great show on the program. We will find in particular Jessica Ginier and Lucile Pothier, who will start as big favorites for the tournament, especially after their title at P1500 All In Villefranche.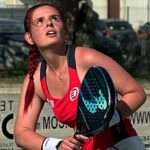 It was his brother who one day told him to accompany him on a track. padel, since then, Gwenaëlle has never left the court. Except when it comes to going to watch the broadcast of Padel Magazine, World Padel Tour… or Premier Padel…or the French Championships. In short, she is a fan of this sport.