Everyone has their own method for preparing for the end of the season. While some invest long hours on a tennis court or in a weight room, Benoît Paire has opted for another path: hitting the tennis courts. padel.
Currently 123rd world tennis player, he has been seen in Tennis Padel Club de la Châtaigneraie, an emblematic tennis club which had recently hosted the French national rugby team, it was a few days before the blues' semi-final, unfortunately lost to South Africa.
But this time, it was the French tennis player's turn to enjoy a game on the slopes alongside one of the best French players and coach at the club: Jérome Inzerillo.
This is not the first time that Benoît Paire has been seen on a track padel. He had already played in the International Club Cup of Padel in Malaga, in parallel with the tennis challenger he played at the Inacua club two weeks ago. However, this preparation "padel" did not have the desired effect for the former 18th world player. A tournament to forget for the Frenchman, having withdrawn (0/6 2/4) against the Spaniard Pedro Martinez.
It remains to be seen whether this strategy benefits the Frenchman. However, he managed to win a set against Mattia Bellucci at the Challenger in Olbia, Italy, and he will begin the Brest Open, the final stages of which will begin tomorrow.
Is this a positive sign for the end of the season? Only the future will tell us…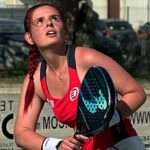 It was his brother who one day told him to accompany him on a track. padel, since then, Gwenaëlle has never left the court. Except when it comes to going to watch the broadcast of Padel Magazine, World Padel Tour… or Premier Padel…or the French Championships. In short, she is a fan of this sport.