Our colleague from Padelonomics carried out a survey of 300 players to see which brands of rackets were best sold in France.
And without real surprise, we notice that you mainly buy palas manufactured by the heavyweights of the industry.
Note that this is certainly a biased reality in the sense that these are often "addicts" of padel and intermediate +/advanced players who respond to this type of questionnaire. Consequently, the mass is not affected and can explain certain results in contradiction with the reality on the ground. The hierarchy of rackets padel sold could thus be completely turned upside down.
At the top, we find Babolat, a French brand originally specialized in tennis, which sponsors one of the most charismatic players, the one who was world number 1 for a long time: Juan LeBron.
Behind, we find two brands "100% padel", Nox et Bullpadel, who also rely on stars of the padel, including of course Tapia for the first, and Paquito Navarro for the second.
Follow closely Head et Kuikma. The Austrian brand has made a name for itself in the padel and not only attracts tennis players. First with Bela and Sanyo, and now with Arturo Coello, Paula Josemaria and Ari Sanchez, Head has always known how to rely on very high level players to create effective communications.
For its part, Kuikma, a brand belonging to Decathlon, has established itself in the landscape of padel worldwide thanks to palas with an unbeatable quality/price ratio.
Unlike other tennis giants such as Babolat et Head, Dunlop et Wilson currently seem to have a lower popularity rating according to this study. And yet, Wilson is archi-present in the landscape of padel French and European. This is why we must put the results of this survey into perspective, because undeniably with King Bela as a figurehead, Wilson is at the top of the basket.
We also notice that legendary brands like Black Crown ou StarVie remain behind despite the quality of their rackets.
Brands are also making a name for themselves in France: we think of the Swedish brand oxdog, the Portuguese brand Cartri or the brand with a great history, Varlion.
Finally, we think of the French brand, Tecnifibre, which is currently struggling to establish itself, even if we have undoubtedly seen a clear evolution over the past year.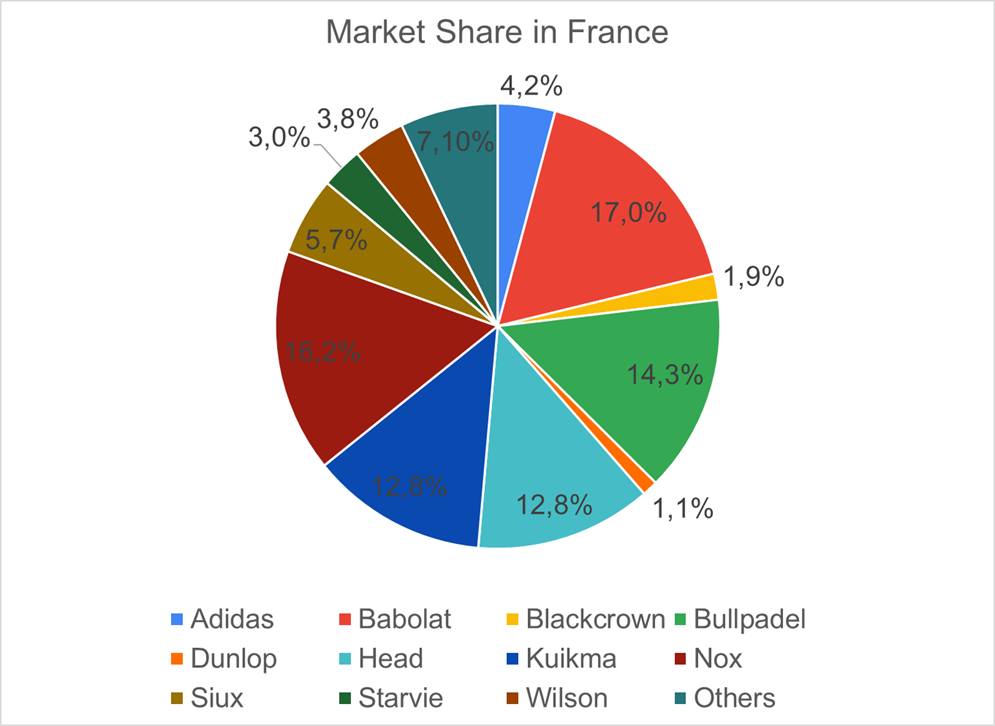 We will observe, on the other hand, that certain brands, supposed to be heavyweights in sport, are absent from the French-speaking market. We necessarily think of Asics or again Puma despite the heavy investments (Pablo Lima, Momo Gonzalez, Victoria Iglesias, etc.) and their significant distribution network. Besides, Asics abandoned the case almost 2 years ago.
Remember that this survey was carried out on 300 people, who are not necessarily representative of the market. padel in France, and that these figures remain indications. Indeed, by carrying out the same survey among other practitioners, we could have very different data.
If you are looking for the best brands of snowshoes for your next purchase, do not hesitate to go and make another one in our directory !
You don't know where to buy your pala? Come take a look at our partner shops !

Team Padel Magazine tries to offer you since 2013 the best of padel, but also surveys, analyzes to try to understand the world of padel. From the game to the politics of our sport, Padel Magazine is at your service.